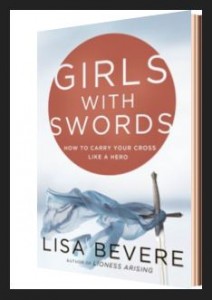 "Lisa Bevere is one of God's most powerful voices for this time in our history." — Sheila Walsh, core speaker of Women of Faith
"As you read Girls with Swords, you'll be empowered to face your challenges with boldness and learn to live like a hero." — Robert and Debbie Morris, pastors, Gateway Church, Dallas-Ft Worth, TX
"Read this book with fair warning: You are about to engage in a powerfully courageous life!" — Christine Caine, author of Undaunted and co-founder of The A21 Campaign
"In Girls with Swords you will be challenged to join the ranks of Christians who are already moving forward in their faith.  Don't be taken out of the fight! Stand firm and experience spiritual victory!" — Pastor Steven and Holly Furtick, Elevation Church, Charlotte NC
************
I'm a huge Lisa Bevere fan.  I've been a fan of hers for years, all the way back to "Kissed the Girls and Made Them Cry."  I had the privilege of seeing Lisa and John in a conference, here in Wisconsin, several years ago.  It was one of the most empowering, invigorating, spiritual conferences I've been to!  Lisa and John both have an amazingly strong desire to reach others with the Gospel!
When I first heard about this new book Girls with Swords I knew immediately that I had to get it!  I immediately felt God say "This is your next GCH study!"  Even though we continued to discuss other studies, I always came back to this book!
The day I got the book, I wanted to read it right away; but I put it aside until I could really focus on what I was reading.  I'm so glad I did because this is a book that you don't want to just skim through.  You will want to study this book!  It is that important!  If you take this book and really study it, it truly will bring you victory!  Promise me that you won't just skim through this book!  I want  to see victory in your life, just as much as Lisa did when she wrote this book!
So, how do you sign up, you ask?  That's the easy part!
There are three steps to take to make sure you get the most out of this study:
1) Buy the book.  You will find links on our sign-up page for the hardcopy and the Kindle version of Girls with Swords.
2) Sign Up HERE
3) If you are on Facebook, you will need to send a Friend Request to our GCH Admin, so we can add you to our secret Facebook group where we will dig deeper into this book as a group.  You do not need to be on Facebook to follow along with this study.  BUT, you will get so much more out of it, if you can join our study group!  As soon as you complete the registration process, we will email you further details.
Before I close, I want to share one more thing with you.  This is shared on the inside cover of this book.  It will give you an idea of what you can expect from this book.
"Creatively forging the imagery of swords, the Word of God, and the Cross, Girls with Swords will teach you:
How to speak the language of heaven on earth

What it means to intercede
What it means to carry your cross
What it means to be discerning
How to disarm the enemy
Why women are the enemy's target-and why God needs them to be heroes
It's time to take up your sword and be a hero!"
We hope you will join us for this amazing study!
God's VICTORY is waiting for YOU!
Christi Wilson, Founder of Girlfriends Coffee Hour
**********
To send Christi a private email in regards to this website, blog, or ministry, you may email her at: Christi@GirlfriendsCoffeeHour.com