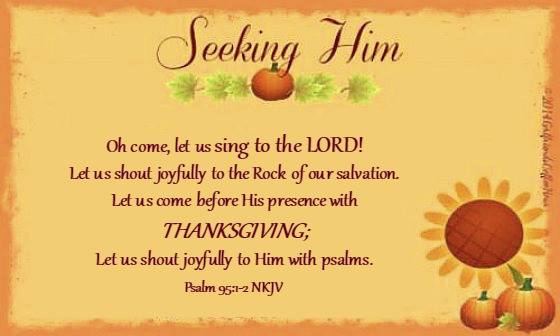 Give thanks to the Lord, for He is good!
His love endures forever.
Give thanks to the God of gods.
His faithful love endures forever.
Give thanks to the Lord of lords.
His faithful love endures forever.
Psalms 136:1-3
*   ~   ♥   ~    ✞    ~   ♥   ~   *
Here on the Seeking Him devotional blog, we are focusing our thoughts for the next few weeks on giving thanks, gratitude, and being thankful.  This week our devotional writers have been so encouraging in reminding us that about our good God—Whose faithful love endures forever.  Please click on the indivdual links to read each complete devotional; here are a few excerpts from their thoughts….
In God's Goodness, Ann wrote about our good God Whose love endures forever…
"This repeated refrain 'His love endures forever' teaches us that God's love is the foundation for all His actions on our behalf and the fountainhead of all our thanksgiving.  His love includes His mercy,  His faithfulness, and His kindness.  God, by His nature, is good.  We are seeing His love always.  He sent His Son to die for us…".
❦
In Aware of Being Thankful, Tina  encouraged us to recognize the opportunities we have to be thankful (and say so)…
"Everyday, every morning, before our feet touch the ground, we should give thanks to God for a new day, a new opportunity to praise and serve Him.  As we do this, our hearts will change, we will grow stronger in our faith walk…".
❦
In Steadfast, Cynda defined the word for us and gave us a broader understanding of God's steadfast love…
"I don't know about you, but there is nothing in my life, outside of God's love, that is immovable…not subject to change…resolutely firm and unwavering.  Life seems to be constant change. How wonderful it is to know God's love remains firm…".
❦
In What If, Ahmee shared a childhood game and the perspective it placed on thinking about God's faithful love…
"Remembering that made me think…

What if God's love did not endure forever?
What if God was not the only True God?
What if God's love were not faithful?

Could you even begin to fathom what our lives would be like if God was not the way He is?..".