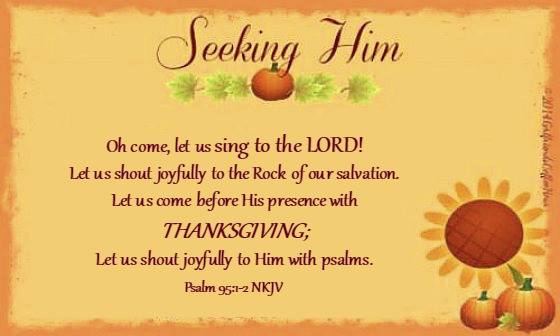 Every day throughout November, we'll bring you a  devotional focused on giving thanks, gratitude, or giving of ourselves. We welcome you to check in each day and give thanks along with us!
Give thanks to the Lord, for He is Good!
His faithful love endures forever.
Let all Israel repeat: "His faithful love endures forever."
Psalm 118: 1-2
*   ~   ♥   ~    ✞    ~   ♥   ~   *
Without God's love we would be some very sad people.  Without the love of God, Jesus would not have been sent for us.  Without Jesus we would all be bound by the law.  Bound by the law we'd be doomed to live far more strict lives or suffer the consequences.  Without Jesus we would be stuck trying to be"good enough." Thank God that is not the case!
I believe that without Jesus regret, guilt, hurt, sickness, pain, and every other type of ailment available would just be able to run rampant among us and we would not have any release.  This is, of course, my opinion.  The way that life is for us now, God can fix anything if we allow Him to.  We can go directly to Him ourselves.  It's so much more intimate.  I couldn't image having to go to another human to confess my sins, concerns, shortcomings, or worries to God for me.  I'd like to think that if I had to I would…but how comfortable it is to just be able to sit, stand, walk, drive, play, clean, or anything, and have a direct line to the Lord.  Even as I sit to type this devotional, I pray that the message He would have me present is expressed in the words that I write.
Psalm 118:1 says, "Give thanks to the Lord, for He is good!  His faithful love endures forever." How thankful I am that His faithful love which endures forever is shown very clearly in the gift of His Son Jesus Christ.  I feel we should consider how life would be without Jesus Christ versus how it is with Him.  As we do, we can become even more appreciative, grateful, and thankful for the Gift given to us.
*   ~   ♥   ~    ✞    ~   ♥   ~   *
Lord, help us to be forever remember to be thankful for your love that endures forever. Amen.