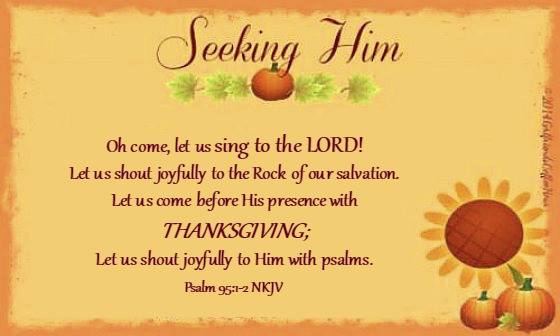 Every day throughout November, we'll bring you a  devotional focused on giving thanks, gratitude, or giving of ourselves. We welcome you to check in each day and give thanks along with us!
Give thanks to the Lord, for He is good;
His love endures forever.
Let Israel say: "His love endures forever."
Psalms 118:1-2
*   ~   ♥   ~    ✞    ~   ♥   ~   *
The whole of Psalm 118 praises the Lord for His everlasting love for His people…how good He is from the start to the end.  The Bible gives us Scriptures that show God's goodness in many ways:
• Good and upright is the Lord therefore he instructs sinners in His ways. (Psalm 25:8)
The main theme is how God in His wisdom guides sinners so that they become faithful believers.
• The Lord loves righteousness and justice, the earth is full of his unfailing love. (Psalm 33:5)
The love that is 'unfailing' is His unconditional love—the love that does not take into account what you have done (good or bad) in His sight.  And that His grace is sufficient and He still loves you anyway.
• Taste and see that the Lord is good, blessed is the man who takes refuge in Him. (Psalm 34:8)
(Also see Psalm 119:68, 145:7, Isaiah 63:7, Jeremiah 33:11.)
• The Lord is good, a Refuge in times of trouble. He cares for those who trust in Him. (Nahum 1:7)
In the above sections of Scriptures we see the goodness of the Lord being shown in different ways.  Brethren, let us trust in the Lord always for, indeed, His love endures forever.
*   ~   ♥   ~    ✞    ~   ♥   ~   *
Dear Lord, we thank You and we bless You for Your lovingkindness.  We give You all the glory and honor because You are our God whose love never fails and endures forever.  Teach us to trust in You always.  Teach us to depend upon You at all times.  Forgive us for making You too small in our lives and following our own steps in other ways.  Hold our hands and lead us on all to the glory of Your Holy name.  May You be blessed in all the earth in Jesus' name, I pray, Amen.