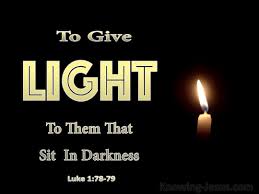 Because of the tender mercy of our God,
His Light from on high has visited us,
to shine on those who sit in darkness and in death's shadow,
and to guide our feet into the way of peace.
Luke 1:78-79
*   ~   ♥   ~   ✞   ~   ♥   ~   *
His Light. God loved us enough to send us His only begotten Son to guide, teach, and lead us into a life of eternal happiness.  God had never intended for us to suffer and be in agony from our self-imposed guilt and shame.  Faith and trust in Him and in His Word is where our strength lies.
From the beginning of time God was very meticulous in creating our world. He took such care to speak the world into existence just so.  He created the animals, the trees, flowers, the fish, the grass, and the moon and stars.  Every little detail He thought of.  Imagine trying to create a world and thinking of everything—the oxygen, the gravity, the way things stay and grow in the ground.
How can we not be in awe of someone who is as thoughtful as our God?  He created the first man from the dirt of the earth and formed every little thing about him.  I mean, who thinks about the fact you need to blink in order that your eye would not dry out.  I am not sure I would have been so detailed.
If He can be that thoughtful, we should aspire to be there for our friends and family.  Forgiving as we go through life and not waiting for the right time, or until someone else apologizes first.  During this time of year, (and not just now but always), we should be the first to forgive and share the light God has created inside of us.  God knows our heart, He created us, He knew us when we were growing inside of our mothers.
When we were born, we came into the light. We were born into this world for a relationship with God and to tell others about Jesus, His Son, and how God wants us to live forever with Him.
You are the salt of the earth, but if salt has lost its taste, how shall its saltiness be restored? It is no longer good for anything except to be thrown out and trampled under people's feet.  You are the light of the world. A city set on a hill cannot be hidden.  Nor do people light a lamp and put it under a basket, but on a stand, and it gives light to all in the house.  In the same way, let your light shine before others, so that they may see your good works and give glory to your Father who is in heaven.
Matthew 5:14
Father, thank You for sending Your Son, Jesus, to teach us about Your love and the good You wish to do for us.  Give us the courage to speak when we need to and be silent when we need to.  We want to share Your love with others…putting ourselves aside and loving those close to us with an unconditional love.  Thank You for Your blessings.  In Jesus's name, Amen.