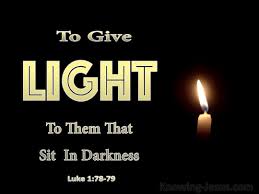 Because of God's tender mercy,
the Morning Light from Heaven is about to break upon us,
to give light to those who sit in darkness
and in the shadow of death,
and to guide us to the path of peace.
Luke 1:78-79
*   ~   ♥   ~   ✞   ~   ♥   ~   *
Luke 1:78-79 resonates loudly with me.  The part about "…to give light to those who sit in darkness…and to guide us to the path of peace," hits home.  It reminds me to be so thankful for what God has done for me.
Without His "tender mercy" I don't know where I would be.  Would my suicidal thoughts have gotten the best of me?  There are so many people that I would not have gotten to meet.  How different would their lives be? And my family's?
Without Christ and the Holy Spirit I would be lost and possibly not alive, but thank God that He does not let leave us in darkness.  God never intended for us to dwell in darkness.  Any situation that is dark or detrimental to one's mental or emotional well-being, or anything that is just dark—is not of God.  Jesus came so that we could have life and have it more abundantly (John 10:10).
God may find us in the darkness—we may find our way there or life may just be plain mean to us—but God never wants us to stay there. God sent Jesus Christ, His only Son, to die for you and I.  He loves us this much!  And if He loves us this much, what makes you think that He doesn't love us enough to want us to live in His light?  Don't dwell in darkness unnecessarily.  God has made a way in, so that we can find a way out.
*   ~   ♥   ~   ✞   ~   ♥   ~   *
Lord, thank You for the lighted path that you have provided and thank You for never wanting us to dwell in darkness.  Help me to never forget that when I can't find my way, and it seems You are not near, that You ARE always near.  Always.  In Jesus' name I pray, amen.