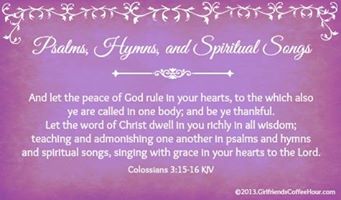 Grand earth has quaked before
Moved by the sound of His voice
Seas that are shaken and stirred
Can be calmed and broken for my regard
And through it all, through it all
My eyes are on You
And through it all, through it all
It is well
And through it all, through it all
My eyes are on You
And it is well with me
Far be it from me to not believe
Even when my eyes can't see
And this mountain that's in front of me
Will be thrown into the midst of the sea
So let go, my soul, and trust in Him
The waves and wind still know His name
It is well with my soul
It is well with my soul
It is well with my soul
It is well with my soul
It is well, it is well with my soul
Through it all, through it all
My eyes are on You, Lord
Through it all, through it all
It is well with me
Bethel Music
written by Kristene DeMarco
Traditional hymn, It Is Well, written by Horatio Spafford
*   ~   ♥   ~   ✞   ~   ♥   ~   *
From the beginning of Creation, the earth has responded to the voice of God, its Creator. (Genesis 1)
As the Israelites escaped from the Egyptians, the Red Sea parted at God's command. (Exodus 13:17-14:31)
When the disciples were in the raging storm on the Sea of Galilee, it was calmed at the voice of Jesus. (Mark 4:35-41)
When God speaks and nature responds, it's for a reason. When Christ was dying on the Cross, for the sins committed by each of us, there was great pain (spiritually and physically) and Christ cried out and the earth responded with a quake. (Matthew 27:46-56)
Our God is sovereign over all of Creation…and that includes each of us.
When we pass through the waters, He will be there for us.
But now thus says the Lord,
He who created you, O Jacob,
He who formed you, O Israel:
"Fear not, for I have redeemed you;
I have called you by name, you are Mine.
When you pass through the waters, I will be with you;
and through the rivers, they shall not overwhelm you;
when you walk through fire you shall not be burned,
and the flame shall not consume you.
For I am the Lord your God,
the Holy One of Israel, your Savior.
Isaiah 43:1-3
Whether we are escaping the enemy of our soul or the storms and pains of daily life, our God can command calm.  Whether it is physical, emotional, financial, relational, or spiritual, because Christ paid the price on the Cross, it can be "calmed and broken for my regard."  He knows our pain and so much more.  We may not see the answers immediately, but our hope is built on nothing less than our faith in Jesus' cleansing blood and righteousness.
The word is near you, in your mouth and in your heart
(that is, the word of faith that we proclaim);
because, if you confess with your mouth that Jesus is Lord
and believe in your heart that God raised him from the dead, you will be saved.
For with the heart one believes and is justified, and with the mouth one confesses and is saved.
For the Scripture says, "Everyone who believes in him will not be put to shame."
Romans 10:8-11
For we do not have a high priest who is unable to empathize with our weaknesses,
but we have One who has been tempted in every way,
just as we are—yet He did not sin.
Let us then approach God's throne of grace with confidence,
so that we may receive mercy and find grace to help us in our time of need.
Hebrews 4:15-16
Through it all, He is Emmanuel—God with us.  When the mountains in our life are too big for us to climb, Jesus wants us to have the faith to command it to be thrown into the sea.
And Jesus answered them, "Have faith in God.
Truly, I say to you, whoever says to this mountain,
'Be taken up and thrown into the sea,' and does not doubt in his heart,
but believes that what he says will come to pass, it will be done for him.
Therefore I tell you, whatever you ask in prayer,
believe that you have received it, and it will be yours.
Mark 11:23
When we are going through hard times in our lives, God wants us to keep our eyes on Jesus.  It is with the authority of Christ given to us that we can speak His Name to the mountains and storms.  He is our Salvation…spirit, soul, and body.
So let go, my soul, and trust in Him
The waves and wind still know His Name…
…Through it all
It is well, it is well with me
*   ~   ♥   ~   ✞   ~   ♥   ~   *
Lord Jesus, oh how, we love You!  All of us have waves and wind and mountains that try to stop us in our tracks (and sometimes they do for a time) but through it all You give us the love and confidence to say, "it is well with my soul."  Help us by Your Holy Spirit to keep our eyes fixed on You and not on our circumstances.  We have our faith in You so we can say, "Though we pass through the waters You are with us, so we will not drown!"  Thank You!  In Jesus' precious Name, Amen.