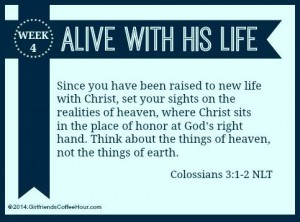 When you were born again in Christ, did you sense that your innermost being was passing from death into life?  Ephesians 2:1 and 2 says, "As for you, you were dead in your transgressions and sins, in which you used to live when you followed the ways of this world and of the ruler of the kingdom of the air.  But…."  (read on, dear sister!)
But God—so rich is He in His mercy!
Because of and in order to satisfy the great and wonderful
and intense love with which He loved us,
even when we were dead (slain)
by [our own] shortcomings and trespasses,
He made us alive together in fellowship and in union with Christ;
[He gave us the very life of Christ Himself, the same new life
with which He quickened Him, for]
it is by grace (His favor and mercy which you did not deserve)
that you are saved (delivered from judgment
and made partakers of Christ's salvation).
Ephesians 2:4 and 5 AMP
To satisfy His intense love for us, God through Christ made us alive in union with Him.  He gave us the same life He gave Jesus Christ so we could be saved!  Oh, what mercy and grace!
"Alive" what does that mean to you?  To get a good perspective, I looked up the definition of "alive."  Some definitions that struck me were—'not just living but alert…active…vital…and energetic'.  Romans 6:11 NLT, "So you also should consider yourselves to be dead to the power of sin and alive [alert, TLB] to God through Christ Jesus.
Then I found this quote from Adolf Deissman, a professor of theology in two major universities in Germany from 1897 to 1935.
"Just as all men live in the air, and cannot live without air,
so the Christian lives in Christ…To be in Christ is to live a life
in which Christ is the atmosphere which we breathe."
Christ is the very atmosphere in which I "live and move and have my being" (Acts 17:28 NIV).  As Michael W. Smith's song, "Breathe" states,
I'm desperate for You, I'm lost without You. You are the very air I breathe!
This union with Christ has given us full access to "the life-giving God" (1 Timothy 6:13 Message). Even Jesus refers over and over to God as His/our source of life:
…I (Jesus) live because of the Father…
John 6:57
For as the Father has life in Himself, so He has granted the Son also to have life in Himself.
John 5:26
He is not the God of the dead, but of the living, for to Him all are alive.
Luke 20:38
John 17:20-26 records Jesus' prayer for all future people who would become believers (that includes us).
I pray also for those who will believe in Me
through their (the disciples') message,
that all of them may be one, Father,
just as You are in Me and I am in You.
May they also be in Us
so that the world may believe that You have sent Me.
I have given them the glory that You gave Me,
that they may be one as We are one—
I in them and You in Me—
so that they may be brought to complete unity.
Then the world will know that You sent Me
and have loved them even as You have loved Me.
Do you see that, ladies?  Jesus asked His Father to spiritually unite us as He and the Father are united.  The only way that is possible is for each of us to have the same Spirit—"I in them and You in Me."  Our spiritual aliveness is from the life of Jesus Christ Himself, "The very Source, the Author of life" (Acts 3:15 AMP), and our unity is because of that oneness in Christ.
When Jesus ascended into Heaven, He was determined that we would remain in Him—to be alive, alert, vital, and active—so He gave us the wonderful gift of His Holy Spirit to help us.
And I will ask the Father, and He will give you
another Advocate, who will never leave you.
He is the Holy Spirit, who leads into all truth…
you know Him, because He lives with you now and later will be in you.
John 14:16-17 NLT
It is the Spirit who gives life…
John 6:63 NASB
How do we continue to grow in this aliveness?  We need to renew our minds (Romans 12:2 KJV).  We do that by daily feeding on "The True Bread of God… anyone who feeds on Me will live because of Me" John 6:33 and 57 NLT.  This is Jesus' promise to us.  The world would like us to think that if we satisfy our own cravings and lust that we will really live.  Oh, they are so misled (1 John 2:15-17)!  Those things will never satisfy the hunger that was placed in us when we were created.  It can only be satisfied by Christ, Himself.
I AM the Way, the Truth, and the Life…"
John 14:6
…the man/woman who does the will of God lives forever.
1 John 2:17
As I learn and grow by spending time in His Word, I know Christ better.  As I know Him better, I fall more in love with Him.  In that love, I am alive, alert, active, and vital for Him.
"You are the God who preserves alive all living things (1 Timothy 6:13 AMP).
I acknowledge that all of my life—physical and spiritual—
is in Your hands and under Your control."
—Ruth Myers, page 87
* ~ * ~ * ~ * ~ *
Dear Lord, thank You for desiring us to be alive in You.  We are desperate for more of You.  You ARE the very air we breathe.  Help us to renew our minds and satisfy our hunger by feeding on Your Word daily.  Thank You for Your Holy Spirit who sustains, comforts, and guides us in our aliveness in You.  In the Name of our Living Lord, Jesus Christ, we pray.  Amen.