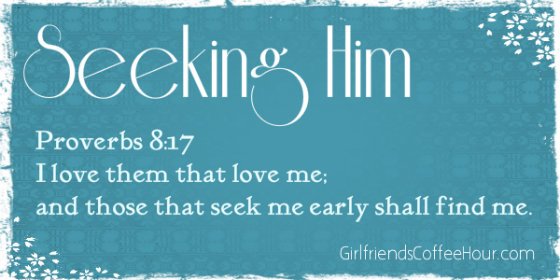 Your Word is a lamp to my feet
And a light to my path.
Psalm 119:105
*   ~   ♥   ~   ✞   ~  ♥   ~   *
This week, here on the Seeking Him devotional blog, we have been reminded of God's promise that His Word brings light for our feet along life's path.  Our devotional writers have shared their understanding with us in the devotions that they have written.  Please click on each link to read their complete devotional; but here are a few excerpts from their thoughts….
In The Word is Our Light, Ann reminded us that the True Light will help us with the darkness the world brings….
In John 1:9 the Bible says the Word of God is the True Light.  It is the Sword of the Spirit with which you pierce your way through the darkness of life.  If the True Light dwells richly in you then fear, defeat, failure, and all other results of darkness won't have any place in you.  You won't fear because the True Light will show you that God has not given you the spirit of fear.

❦
In Guidance, Tina shared the example of the Father of Faith—Abraham—and how God guided him….
But, that aside, how can someone travel through life without knowing God?  God designed us for fellowship with Him.  Not for us to be separated from His perfect love. God chose a people to be called his own, a people to be set apart.  As God searched, He found Abram.  God calls Abram to leave his family…

❦
In His Word – Our Light, Our Lamp, Cynda brings our attention to a couple of important points about our steps along God's path….
The Word of God can make our steps clear.  The Bible should be used to help us walk the way God wants us to walk and live the way He wants us to live.  When we choose not to use His Word, our path becomes unclear.  We aren't sure if our next step will be on a firm foundation or down a dangerous alley…