Welcome to Girlfriends Coffee Hour!
We are an Online Bible Study Ministry for Women! We offer online Bible studies, and more, for women of all ages, all across the world.


____________________________
Copyright© 2016 Girlfriends Coffee Hour. The content of this Website (including without limitation all text, graphics, logos, images, reviews and opinions) is the exclusive property of Girlfriends Coffee Hour and cannot be reproduced without permission.
Daily Devotions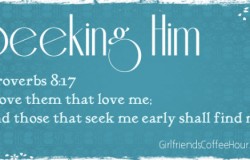 December 31, 2015 By coleen hayden
{This final week of 2015 we will be re-visiting some of my personal favorite themes on which our wonderful writers have shared with us throughout this past year.  I hope that you (as I was, too!) will be encouraged and reminded of God's faithfulness and loving care through their inspired words.} For whatever was written in former days was written for our instruction, that through endurance and … [Read More...]
Psalms, Hymns, and Spiritual Songs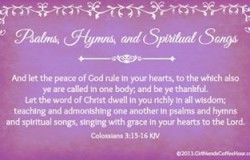 January 1, 2016 By coleen hayden
Over time You've healed so much in me, and I am living proof That although my darkest hour had come Your light could still shine through Though at times it's just enough to cast a shadow on the wall I am grateful that You've shined Your light on me at all Who am I, that You would love me so gently Who am I, that You would recognize my name Who am I, that You would speak to me so … [Read More...]
At Home with GCH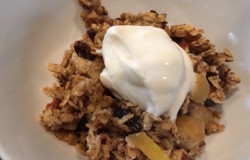 January 1, 2016 By Dana Kim
Happy New Year, everyone!  For me, the new year is a time to reflect on change, on growth, and on being grateful for all that you have.  If you haven't heard, we are coming to the end of Girlfriends Coffee Hour.  I hope that in the years we've been sharing recipes here at At Home With GCH, you've seen something you might want to try; that you've experimented a bit in your kitchen and gone outside … [Read More...]
Encouragement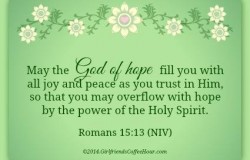 January 1, 2016 By Kim Spring
This post is from 2013. I love looking back and seeing how faithful God has been. He's never once let me down. And now, 2 years later, I can still say that He is good and He is true and He is always with us. I pray that you too will see all His goodness and glory in the upcoming year! God bless you... Rejoice in our confident hope. Be patient in trouble, and keep on praying. Romans 12:2 A … [Read More...]
Recently Completed Online Bible Study – CHRISTLife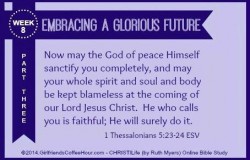 March 7, 2014 By Clella Fox
What an opportunity, privilege, and awakening we have experienced in the last 39 days of this study.  We have been made aware again, or perhaps for the first time, that God created us because He loves us.  He created us on purpose to have a relationship and fellowship with Him.  We didn't come crawling out of some swampland.  We came out of His heart. We discovered that the ideal mirror to look … [Read More...]