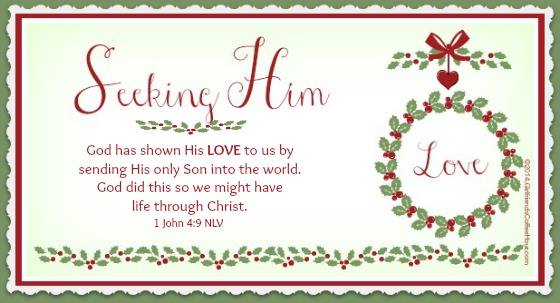 Merry, blessed Christmas to each of you!  How encouraging it has been to read the Seeking Him devotionals each day during this Advent season focused on the themes of Hope, Peace, Joy, and Love.  The Scriptures and the encouragement shared have reminded me of God's goodness and helped me to prepare my heart for the celebration of Jesus' birth.
We all know how easy it is amidst all the hubbub—the list-making, and shopping, and baking, and caroling, and visiting, and wrapping—to be distracted from the true importance of the season.  Jesus' birth changed EVERYTHING.  His first coming as Emmanuel, God With Us, redeemed the past, gave purpose for that present time, and hope for the future.
…while we wait for the blessed Hope—the glorious appearing
of our great God and Savior, Jesus Christ,
Who gave Himself for us to redeem us from all wickedness
and to purify for Himself a people that are His very own, eager to do what is good.
Titus 2:13-14
This week, Ahmee, Ann, Cynda, Laura, and Tina have helped us to keep our focus on the love that Jesus' birth showed to mankind.
For God loved the world in this way:
He gave His One and Only Son,
so that everyone who believes in Him
will not perish but have eternal life.
John 3:16
*    ♥  ~  ✝  ~  ★    *
Laura wrote in God's Love Abounds that "If we love God then we should show that same love to our neighbors. We should be helping our neighbors when trouble hits as well as during the good times. This is showing godly love.
Loving God means knowing God.
Knowing God means showing it through prayer and service to others.
Dear friends, let us love one another, for love comes from God.
Everyone who loves has been born of God and knows God.
1 John 4:7
❤
In God's Banner Over Us is Love, Ann reminded us of the truth about LOVE.
Love is patient, love is kind.
It does not envy, it does not boast, it is not proud.
It does not dishonor others, it is not self-seeking,
it is not easily angered, it keeps no record of wrongs.
Love does not delight in evil but rejoices with the truth.
It always protects, always trusts, always hopes, always perseveres.
1 Corinthians 13:4-8
Jesus gave us the commandment to love one another as He had loved us. And for us to show that we are His disciples we must love one another.
Christmas is also a season of love—a season to give and a season to care. Therefore choose someone you can bless with food items, clothes, etc., as an act of love. God freely gave us His Son. We should also freely give what we are blessed with!
❤
Cynda shared in Love Is Action of God and Jesus' proven love for us.  She wrote, "Christ made the ultimate sacrifice, knowing all the while we were not worthy.  He came for us because He loved us.  Romans 5:8 (NLT) makes that clear – 'But God showed His great love for us by sending Christ to die for us while we were still sinners.' And 1 John 3:16a (NLT) ties it up in a neat little bow: 'We know what real love is because Jesus gave up His life for us.'
This year for Christmas I want to focus not only on the miraculous birth but also on the love that was made real in a tiny manger in Bethlehem. I want that real love to flow through me to those around me. I want His love and His light to shine through me.
That's the reason He came.
That's the reason for Christmas.
To put
love

in action.

❤

Ahmee wrote in Love Is A Choice the following.  "Love is—and will always be—an action. Therefore, since love is a verb and requires us to do something—it is a choice. Love will always be a choice. You choose to love your coworkers when they annoy you. You choose to love your boyfriend or your spouse, even when you don't agree. I fear the day our actions are no longer something we choose to do, and are simply things that happen. Until that day, though, you choose.

As John said in 1 John 3:18:

Dear children, let's not merely say that we love each other;
let us show the truth by our actions.

❤

And Tina reminded us of Jesus' perfect example of love in No Greater Love.

"Greater love has no one than this: to lay down one's life for one's friends.
John 15:13 NIV

Ponder those words. Do you have a friend that would do that for you? You know that you do. If you have believed on the Lord Jesus Christ, He has already paid that price for you. You see, Jesus knew from the Creation of man, that His Father meant for Him to come dwell among us, to be an example of how we should live in this broken world. God knew it would be better for us to see how to live a perfect life. And Jesus is the example of living a selfless life.

 *    ♥  ~  ✝  ~  ★    *

Thank you, ladies, for reminding us and compelling us to be loving as we have been commanded AND enabled to be!  As you have prayed with us this week, may our prayer today continue… 
Father, we thank You for the love that You have for us.  Teach us, Lord, to love one another as Christ has loved us.  Help us also to practice love not only in this season but all the days of our lives, Lord.  Thank You for showing us Your love through the birth and death of Jesus.  Without Him, we would not know You or be able to show Your love to others.
Thank You for sending Your son Jesus to live among us.  Thank You for the many times You give us to live for You.  Please let Your love flow through me each day but especially during this wondrous time of year.
Lord, may we come to understand and embrace love as an action. Let us show Your love to the world.  Let us strive to show this type of love to all. We as the Church are Your example of how love functions. Christ is Your ultimate example of love.  May You receive all the glory and praise!  We love You!!!  And pray these things in Jesus' name, amen.