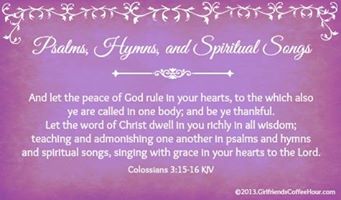 In this world I walk alone
With no place to call my home
But there's one who holds my hand
Through rugged roads, through barren lands
The way is dark, the road is steep
But He's become my eyes to see
The strength to climb, my griefs to bear
The Savior lives inside me there
In Your love I find release
A haven from my unbelief
Take my life and let me be
A living prayer, my God, to Thee
In these trials of life I find
Another Voice inside my mind
He comforts me and bids me live
Inside the love the Father gives
Take my life and let me be a living prayer, my God, to Thee
Alison Krauss and Union Station
written by Ron Block
  *  ~  ♥  ~  ✞  ~  ♥  ~  *
This beautiful bluegrass ballad is an affirmation…a declaration…a commitment.  It is the heart-cry of the songwriter to his God.  I love that he wrote, 'take my life and let me be a living prayer…' .  He recognized that, even though he had so much in his heart he wanted to commit to God Almighty, he still needed God's involvement.  He knew he needed God.
The writers of the Psalms often communicated very similar thoughts.
Give ear to my words, O Lord; consider my groaning.
Give attention to the sound of my cry, my King and my God,
for to You do I pray.
O Lord, in the morning You hear my voice;
in the morning I prepare a sacrifice for You and watch.
But let all who take refuge in You rejoice; let them ever sing for joy,
And spread your protection over them,
that those who love Your name may exult in You.
For You bless the righteous, O Lord;
You cover him with favor as with a shield.
Psalms 5:1-3, 11 and 12 ESV
Let me hear in the morning of Your steadfast love,
    for in You I trust.
Make me know the way I should go,
for to You I lift up my soul.
Psalm 143:8
Keep and protect me, O God, for in You I have found refuge,
and in You do I put my trust and hide myself.
I say to the Lord, You are my Lord;
I have no good beside or beyond You.
I have set the Lord continually before me;
because He is at my right hand, I shall not be moved.
Therefore my heart is glad and my glory [my inner self] rejoices;
my body too shall rest and confidently dwell in safety…
Psalms 16:1-2, 8-9
And as such it is with us, too. We cry out to our heavenly Father with our own words of commitment and declaration. Voicing the affirmation of our faith in Him…our trust and belief that He is faithful…our acknowledgment of our great need for our El Shaddai.
At the very end of the video clip above, is a quote from C. S. Lewis about prayer…

I pray because I can't help myself.
I pray because I'm helpless.
I pray because the need flows out of me
     all the time, waking and sleeping.
It doesn't change God, it changes me.
Take my life and let me be a living prayer, my God, to Thee!