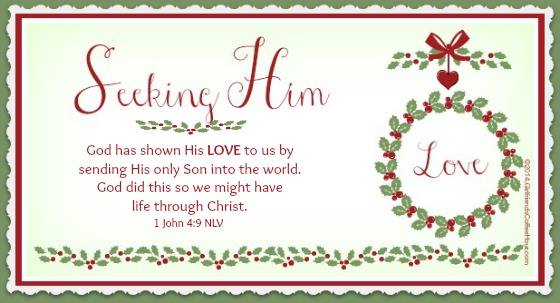 He has brought me to His banquet hall,
And His banner over me is love.
Song of Solomon 2:4
There is this song that we used to sing in Sunday school…
  ♫ ♪ ♫ Behold what a manner of love that the Father has given unto us
That we should be called the sons of God   ♫ ♪ ♫
Back then I could not understand what I was singing; but now that I am saved I
do understand
that God's
love
for us is SO great.  He gave us His begotten Son so that we should not perish (
John 3:16
).  His will for us is to have eternal life.
God's love is wide enough to embrace all persons (1 Timothy 2:4).  God gave His Son as an offering for sin on the c\Cross.  The atonement proceeds from the loving heart of God.  It was not something forced on Him (Romans 8:32).
Love is patient, love is kind.
It does not envy, it does not boast, it is not proud.
It does not dishonor others, it is not self-seeking,
it is not easily angered, it keeps no record of wrongs.
Love does not delight in evil but rejoices with the truth.
It always protects, always trusts, always hopes, always perseveres.
1st Corinthians 13:4-8
We see this is the demonstration of God's love to man, and since we are also created in the image of God let us also exercise it.  Jesus gave us the commandment to love one another as He had loved us.  And for us to show that we are His disciples we must love one another.
Christmas is also a season of love—a season to give and a season to care.  Therefore choose someone you can bless with food items, clothes, etc., as an act of love.  God freely gave us His Son.  We should also freely give what we are blessed with!
   *    ♥  ~  ✝  ~  ★    *
Father, I thank You for the love that You have for us.  Teach us, Lord, to love one another as Christ has loved us.  Help us also to practice love not only in this season but all the days of our lives, Lord.   This we ask in Jesus name.   Amen.