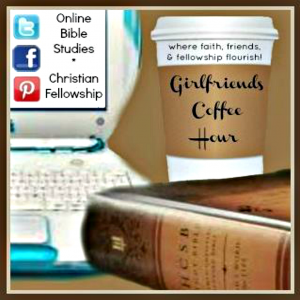 Within a couple of weeks of being involved, I began to feel God prompting me to start an Online Prayer Group.  The purpose was to pray for those who were hurting, to be there to support them with encouragement, and build friendships, along the way.
Within just a few short weeks of creating my first Facebook prayer group I shared the success of this group with the facilitator of the Hidden Joy study and I was invited by her to join the ministry leadership team as the Prayer Group Coordinator.  I was very humbled by this opportunity, and never took that job lightly!  It was amazing to see how God was moving in the lives of the women who joined the groups that were created!
I felt that God had put me in that ministry for just a season, but He was also calling me to build my own online ministry.  After I stepped down from my position, I spent some time in prayer seeking God's direction.  Several times, He had given me a vision and confirmation that I would one day be leading an OBS Ministry and confirmed it through scripture.  I began to form small prayer / study groups on Facebook.  We began with a group of just six women who studied God's word and prayed together for each other, along with encouraging each other.  The vision He had given me for a full-blown online Bible study ministry soon began to unfold.
I began to put together a team of women to help me with this venture, and on May 5, 2012, we went live with our very first online Bible study blog.  I'll never forget our very first study "The Love Dare" and how God blessed so many women through this study!
Girlfriends Coffee Hour soon developed, and I now work every day with the most amazing Leadership Team, who help me each day to encourage women all across the globe to develop a deeper walk with the Lord by studying His word.  Our primary goal is to teach women to intentionally put God first in every area of their lives; to seek His will and His face daily.  God hand-picked each and every one of these Ladies, and I am more than blessed to have them working with us here at Girlfriends Coffee Hour.
We are very pleased with where God has taken us on this journey.  It's been an amazing ride!  We continue to seek Him for new venues that we can add to our website to fit the needs of all women, whether married or single, young or old.  We've met some amazing women along the way, all across the globe!  God has been with us every step of the way.  We surely could not do this without Him and His blessings!  We look forward to where He will take us in the coming years!
Before I close this, I want to say one more thing.  I believe with all my heart that if we seek God's face, and ask Him to use us to help further His kingdom, He will.  It doesn't matter who you are, what your past is, how much money you make, how well you speak.  If God can take the life of a simple housewife from Southeast Wisconsin, to build a world-wide online Bible study ministry, He can use YOU, too!!  All you have to do is be willing to be used by Him.  It's not in your power that He will do these things…it is in His power.  He's just looking for a willing vessel.
Are you willing??
God bless,
<3 Christi Wilson, Founder of Girlfriends Coffee Hour