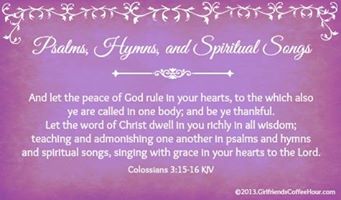 Some days your own resolve is strong
And other days you bend
It's two steps forward, one step back
And a stumble now and then
You wonder if you'll ever really make the difference
You've prayed that you will
Well, I know that prayer will be fulfilled 'cause
Your life woven day by day
Is a new design of the glory God displays
On the canvas of creation
Through the poem of history
In the pattern of redemption
Running through the tapestry
Your life in Christ can be
The greatest story ever told
You cannot see the hands of God
Or feel the grace that flows
From Him through you to those you touch
In ways you'll never know
You cannot measure worth by human standards
That's always a lie
Oh, you have to see through Heaven's eyes how
In the light of eternity
Standing face to face you will finally see
For the very first time you'll understand
Your perfect place in the Master's plan and how
Avalon
written by Bill Gaither and J.D. Miller
*   ~   ♥   ~   ✞   ~   ♥   ~   *
Yet LORD, You are our Father;
we are the clay, and You are our potter;
we all are the work of Your hands.
Isaiah 64:8
I love art.  Especially when I can take something that is broken into pieces and make a creative design.  Like a mosaic!  All the pieces are different shapes and colors; they are from different pieces of pottery that have been special to me in some way.  To someone else, they look like broken pieces of glass…until they are placed in plaster and set to dry.  Then…tada!  You have a table top, or a vase, or a trivet.  Whatever you want to make!
God makes broken things beautiful.  He is the Master Artist and He takes the hardest, most broken parts of us making out of them the most beautiful masterpiece.  We all have a story.  And if we let Him, He can make it His story and it can help countless people just by sharing it.  God then gets the glory for the redeeming and the restoring of you!
Maybe you are walking in freedom from addiction and have a story that will give other women and men hope that they, too, can be victorious. Maybe you are a child of divorce and can give someone the assurance that Jesus can help them through anything.  I don't know your story…but God does.   He is so full of joy over you and He wants the world to see what He has done in you.
'So what do we do next?'  you ask?  We have to be willing to do whatever He asks and go wherever He tells us to go and share with whoever He knows needs to hear our hope story.  And always remember that we couldn't succeed on our own and that only One gets the glory for it all…Jesus!
*   ~   ♥   ~   ✞   ~   ♥   ~   *
Let us pray: Dear Lord, You are the Master and we are Your clay—mold us and make us the way that best glorifies You, oh God!  Thank You for each one of these stories today.  Thank You for giving us victories over our trials and for allowing us to be a part of the greatest story ever told.  And for those still struggling today, give them the strength to ask for help and put someone in their lives that can help them through because of their own experience.  We worship You and we praise You.  In Jesus' name, amen.