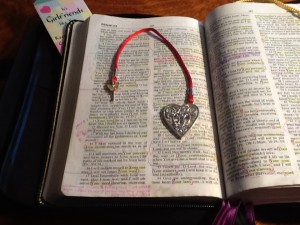 Each Saturday for the next four weeks, we will look in-depth at a few of the most important aspects of having a quiet time—or as some folks call it—a devotional time.  What comes to mind when I use those words "quiet time or devotional time"?  (I would love to hear your responses below in the comments section!)
Awhile ago, I had talked with a few friends about their own quiet time.  Gathering from their experiences, there seem to be a few basic components which include:
Bible Reading
Prayer
Praise Songs
Meditation
Seeking the Lord
This week  we will focus on one of the most important components of a devotional time—spending time reading the Bible.  If we are to come to know God, we must begin to seek Him where He has made Himself known…and that is in His written Word, the Bible.
I would venture to say that almost every single one of us owns a Bible (at least one).  Did you know that the Bible continues to be the best-selling book in the world?*  One reason the Bible is so popular is that it is God's Rule Book.  He reveals Himself within the pages of the Bible.  In the words of His written Word, we find that:
The law of the Lord is perfect, restoring the soul;
The testimony of the Lord is sure, making wise the simple.
The precepts of the Lord are right, rejoicing the heart;
The commandment of the Lord is pure, enlightening the eyes.
The fear of the Lord is clean, enduring forever;
The judgments of the Lord are true; they are righteous altogether.
They are more desirable than gold, yes, than much fine gold;
Sweeter also than honey and the drippings of the honeycomb.
Moreover, by them Your servant is warned;
In keeping them there is great reward.
Psalms 19:7-11
So, we learn in this passage that the Bible—which contains the Lord's law, testimony, precepts, commandments and judgments—is to be desired!  The Scriptures can be to us, as the Psalmist wrote, more desirable than gold and sweeter than honey!  And, in keeping (obeying) the words of the Bible (the Lord's law, testimony, precepts, commandments and judgments) there is great reward!  Such encouragement there is then to spend time reading the Bible, wouldn't you agree?
One of my oh-so-very favorite Scripture passages is Psalm 119.  (And, yes, it directly correlates to the psalm we just read—Psalm 19!  You noticed that, hmmm? Watch, you'll see!)  Psalm 119 is the longest chapter contained in any of the 66 books of the Bible;  it totals 176 verses.  Each of these 176 verses communicates a different truth about the Lord's law, testimony, precepts, commandments and judgments along with His ways, statues, and ordinances.  I find it so amazing (our Lord IS so amazing!) that every single verse tells us something new and different!  Reading and considering and meditating upon the dynamic truths contained in this ONE chapter could be a continuing study for your quiet time.  Perhaps these three verses would be a good place to start:
With all my heart I have sought You;
Do not let me wander from Your commandments.
Your word I have treasured in my heart,
That I may not sin against You.
Blessed are You, O Lord; teach me Your statutes.
Psalm 119:10-12
Our heart's desire—is to seek God!  He is what we yearn for…just to be with Him!  And these three verses express that desire so simply.
Here is a link to a cd that I think you will find a useful tool for your devotional time.  It is called Psalm 119 in Song by Susie Kimbrough,  a compilation of the 22 songs from Psalm 119 all of which are original musical compositions.  Listen to each of the selections and meditate on the Scriptures being sung.
Every day, perhaps every morning, set aside a dedicated time to spend simply reading the Bible.  My own experience has taught me that unless I determine to intentionally pursue spending time each morning reading…it just escapes me through the busyness of the day.  And, yes, during most seasons of life that means setting my alarm a bit earlier than I would prefer.  But it is so worth it!  And maybe you simply start off with 10-15 minutes; could you squeeze that in?  Some people like to read through chronologically.  Some prefer to read a particular book through, and then move on to another.  There are many different Bible reading plans/schedules out there.  You can even choose one through an app and then, automatically, every day you will be sent a portion of the Scriptures to read…how handy is that?!?
Keep seeking for and desiring Him…your heavenly Father has MUCH to show you about Himself through His Word, the Bible!  Enjoy your quiet time with Him.  As you do, He will keep you from wandering, help you not to sin, and will teach you His statutes (Psalms 119:10-12).  Praying for each of you!  I know that the Lord will answer your heart's cry as you seek Him with all your heart!  (Know how I can make that absolute statement?  The Bible tells me so!)
The Bible is the best-selling book in the world:
http://www.booksellerworld.com/bestselling-booksever.htm
http://www.guinnessworldrecords.com/world-records/1/best-selling-book-of-non-fiction