It is no secret what I will bring when asked to provide a salad for any social gathering.  It is a party favorite, delicious AND a nice change from your standard salad.  It has actually been a staple for me this holiday season and provides a little color and healthy option to fill your plate and leave room for a few treats. Not only is it a great option for dinner parties, but this Strawberry Spinach Salad is my favorite for weekday lunches with leftover grilled chicken.
There are no specific measurements—just throw in the amount of your favorites depending on the  number of servings you have planned.
Bunch of Mixed greens or Spinach
Sliced Strawberries
Grapes
Avocados
Dried cranberries
Sliced almonds or pecans
Lite Raspberry Vinaigrette Dressing
Mix all together and top with cheese such as mozzarella or feta (optional).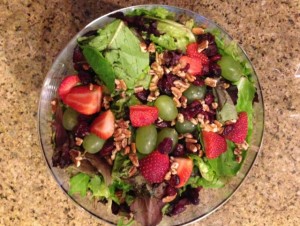 If you want to use for a quick lunches, prepare all ingredients ahead of time without the nuts  and add a couple of tablespoons of them right before eating.  The Raspberry Vinaigrette is not only delicious, but does not need to stay refrigerated so it is easy to pack and carry with you for a lunch to go.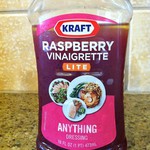 To avoid extra pounds this Christmas, bring this as your healthy option to any gathering.  Fill your plate with this delicious, low-calorie salad to save a little room for those not-so-healthy options that you might choose to indulge in. Allow the salad to be your filler and enjoy smaller portions of your favorite holiday treats.  But I have to warn you, this Strawberry Spinach Salad may just become your favorite!
In Good Health,
Crystal