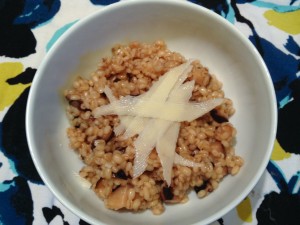 Sometimes I have to peek in my pantry and decide, "Enough is enough!"  Time to use up those odds and ends of things.  I had about a cup of barley left in a bag, so I went in search of a recipe for it.  I found one, made some tweaks, and now I present to you:  Barley Shiitake Risotto!
Barley has a fantastic texture:  firmer than rice, closer to a chewy and delicious wheat berry.  It is wonderful in stews and soups, but it is strong enough to be a star on its own.  This recipe calls for dried mushrooms.  You can use any kind of dried mushroom.  I buy dried shiitake mushrooms at the Korean market, and they're much cheaper there than what you'll pay for dried mushrooms at a regular grocery store.  For the broth, I made bone broth…but you can use any kind—chicken, beef, or even vegetable broth, that you like.  The original recipe called for grated parmesan, which I didn't have.  I used a very hard white cheddar.  You can use any hard cheese you like – if you can grate it, you can use it here!
This is not a forget-it-type recipe.  You do need to stir it every few minutes to get the right texture.  Just start this on the stove while you're making a salad or prepping the rest of your dinner and it will all work out…I promise!
Barley Shiitake Risotto
Ingredients:
1 cup dried shiitake mushrooms (or other dried mushroom)
1 cup white wine
1 tablespoon olive oil
1/2 small onion
2 cloves garlic
1 cup barley
4-5 cups broth
salt and pepper to taste
1/4 cup grated hard cheese (parmesan, very firm white cheddar, or other cheese)
Directions:
Put the dried shiitake mushrooms in a bowl.  Pour over the white wine.  Put another bowl on top of the mushrooms so that they remain submerged in the wine and microwave for 30-60 seconds.  Let the mushrooms rehydrate while you work on step 2.
Mince the onion fine.  In a large, heavy-bottomed pot, heat the olive oil, and add the onion.  Stir over medium heat.  You want the onions to turn golden.  Meanwhile, in a smaller pot, heat the broth to a simmer.  Keep it simmering over low heat.
Mince the garlic, and add garlic and barley to the pan with the onions.  Stir to combine, cooking for 3 minutes.
Squeeze the mushrooms over the bowl and chop.  Add the mushrooms and the wine from the bowl to the barley.
When the wine is almost all absorbed, add a ladle-full of broth.  Stir to combine.  Repeat this process, adding more broth every five minutes or so, when the last addition of broth is nearly absorbed.  You don't want the pan to get dry, but you don't want to make soup either.  This should take about 30 minutes for all of the broth to be added, stirred, and absorbed.
After all the broth is added, taste a bit of the barley.  It should be firm and chewy.  If it's still dry and not al dente, add more stock or water.
When barley is done—chewy and al dente—season with salt and pepper.  Stir in grated cheese and serve hot. (Garnish with extra cheese and take a photo – optional.)
Explore, experiment, enjoy! — Dana
---
To view even more of Dana's unique recipe, you can visit her at Frugal Girlmet!