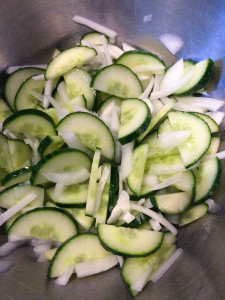 Happy Summer!  Today was my daughter's last day of school.  Memorial Day is in the past, and it's quickly heating up.  That means it's BBQ time!  Next cookout you go to—bring this Sweet and Sour Cucumber Salad.
This is an alternative to that played-out coleslaw.  Feel free to double or triple this recipe.  The cucumbers keep it light and crunchy.  You can adjust the balance of sweet to sour to suit your own taste.  I like this salad fresh, but the longer you leave it to mix and mature – up to two or three days – the more pickled and nuanced the flavors get.  Ready?  Let's go!
Sweet and Sour Cucumber Salad
Ingredients:
1 large cucumber (I like English in this recipe)
1/2 sweet onion
2 tablespoons vinegar – white or rice
3 tablespoons sugar
4 tablespoons whole milk
salt and pepper to taste
Directions:
Cut the cucumber in half lengthwise, then slice into thin half-moons.  Place in a large bowl
Slice the onion as fine as possible.  Add to the cucumber.
Mix together the vinegar, sugar, and milk.  Taste, and add more of what you like, or leave it as-is.  Pour over the cucumber and onion.  Season with salt and pepper.  Keep refrigerated until ready to eat.  This is great the next day, and even more pronounced after two days.  Eat with spicy foods, BBQ'd meat, or really salty foods.
Explore, experiment, enjoy! — Dana
---
To view even more of Dana's unique recipe, you can visit her at Frugal Girlmet!