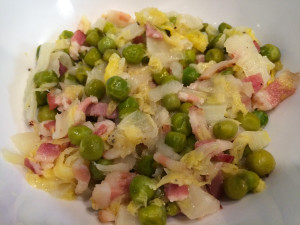 Punxatawney Phil, that old son-of-a-gun, just declared there would be six more weeks of winter.  Growing up in Southern California, it didn't mean much to me—maybe a day or two of drizzle, or a heavier jacket if the temperature dipped into the fifties at night.  Now that we're in Texas, winter is FOR REAL!  There are no good farmer's markets, no fresh produce for cheap.  So when it's the dreary days of February and you can't plant your garden yet, it's time to make the most of what you have.  This recipe for Napa Cabbage with Peas and Prosciutto can't bring spring, but it can warm up your belly!
I had half of a head of cabbage left after making a batch of Stuffed Cabbage Soup and needed a recipe for it.  If you haven't searched through Epicurious.com, please do.  I used the search function to find recipes for Napa cabbage, stumbled onto this one, and tried it.  Fantastic!  I followed the instructions, except I replaced prosciutto with bacon.  Warm, smoky, sweet, and salty.  Try it tonight!
Napa Cabbage with Peas and Prosciutto (recipe courtesy Epicurious)
Ingredients:
2 tablespoons olive oil
1 cup frozen peas, thawed
1 small napa cabbage, trimmed and sliced crosswise
1 ounce prosciutto, chopped (I substituted 3 slices of bacon, minced, cooked, and drained)
1 teaspoon freshly grated lemon zest
1/2 teaspoon fresh lemon juice (or more, to taste)
2 tablespoons freshly grated Parmesan cheese
Directions:
In a large heavy skillet, heat oil over moderate heat until hot but not smoking. Add peas, cabbage, prosciutto, and zest and cook, stirring, 4 to 5 minutes, or until cabbage is wilted and tender.
Remove skillet from heat and stir in lemon juice, Parmesan, and salt and pepper to taste.
Explore, experiment, enjoy! — Dana
---
To view even more of Dana's unique recipe, you can visit her at Frugal Girlmet!