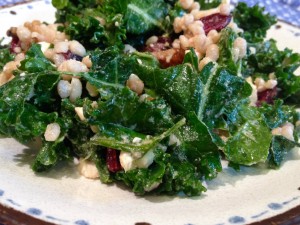 My husband and I eat mostly Paleo.  That means we avoid grains.  But occasionally, I do eat whole grains like barley, wheat berries, or quinoa.  I like their hearty texture and nutty flavor.  They go especially well with greens, as in this Kale and Barley Salad.
You pretty much cover all the bases with this one:  leafy green kale, salty feta, tart dried cranberries (or cherries, or raisins), rich walnuts, and a dressing with a balance of sweet and savory to tie it all together.  You can make this hours ahead of time – even in the morning – and the kale will still have a sturdy texture.  I even eat the leftovers the next day and the kale is chewy and wonderful.  Can't say that about a lettuce salad!
Try this with pearl barley, wheat berries, or quinoa.  Let me know what you think!
Kale and Barley Salad
Ingredients:
1/3 cup pearl barley
1 large bunch of kale
1 heaping tablespoon tahini
1 teaspoon lemon juice or apple cider vinegar
1/2 teaspoon honey
1/4 teaspoon soy sauce
1/4 cup olive oil or sesame oil
1/3 cup dried cranberries
2 ounces crumbled feta cheese
1/2 cup walnuts
Directions:
Boil one cup of salted water.  When the water boils, add barley and reduce heat to a simmer.  Cook until done and the water has evaporated, about 20 minutes.  (Depending on the grain you're using and other factors, these directions may vary.  Use your best judgment.)
While the barley is cooking, prepare the kale:  Tear bite-sized pieces off the tough ribs and wash thoroughly.  Spin dry and place in a very large bowl.
Make the dressing:  In a bowl, combine tahini, vinegar, honey, and soy sauce.  Mix in oil.  Pour it over the kale and mix it in with your hand.  Really!  Get in there and massage and squeeze the kale, to make the dressing stick and soften up the tough leaves.
Add the barley, cranberries, feta, and walnuts.  Toss again and refrigerate until ready to serve.
Explore, experiment, enjoy! — Dana
---
To view even more of Dana's unique recipes, you can visit her at Frugal Girlmet!