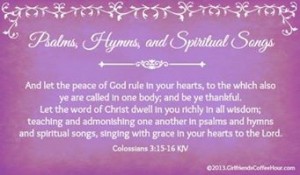 I've heard the thunder before
I'm not a stranger to storms
Even in the flood
I can always run
To where You are
I've had to wait in the dark
And hold the Truth in my heart
Even in the night
Still You open wide
Your faithful arms
And I hide myself
Where I find my help
And I hide myself
I find only rest
I find only peace
Beneath Your wings
You are the Refuge that stands
You hold my world in Your hands
The quiet in the noise
The stillness of Your voice
Will be enough
And it's Your Presence alone
That changes all that I know
'Til all that I know
Is just Your Presence alone
I'm safe in Your shadow
Even in the flood
I can always run
To where You are
Michael W. Smith
Writer: Mia Fieldes
*   ~   ♥   ~   ✞   ~  ♥   ~   *
We certainly can sense there is turmoil and strife in the world.
They were filled with all manner of unrighteousness, evil, covetousness, malice.
They are full of envy, murder, strife, deceit, maliciousness.
They are gossips….
Romans 1:29
God knew there would be trouble in our lives.  Some because of our choices and some because of the world.  It is how we meet those challenges, lifting His name in all situations, that sets us apart from the world.  He will not always remove the testing, but He will walk with us through it.  If God can be with David all the while, He will surely be with us.
We need to search our hearts to see where we might doubt Him—where our faith is weakest.  We must ask God to help us strengthen it, to help us grow our faith, and to trust more and more.  David sometimes wondered where God was; and even the prophets did, too.
Look at Elijah….  With God, he had just destroyed all of the prophets of Baal but upon hearing that Jezebel was going to kill him, he was afraid. But isn't that the man in us—our human side? To forget what God had just done…?  (How quickly we forget when our peace is threatened?)  God knew that Elijah was tired and needed rest and reassurance.  After receiving it, Elijah's faith was restored and God told him what would happen in the future (see 1 Kings 19).
As God was faithful in restoring Elijah,
how much more will He restore us?
Humble yourselves, therefore, under the mighty hand of God
so that at the proper time He may exalt you,
casting all your anxieties on Him, because He cares for you.
Be sober-minded; be watchful.
Your adversary, the devil, prowls around like a roaring lion,
seeking someone to devour.
Resist him, firm in your faith, knowing that the same kinds of suffering
are being experienced by your brotherhood throughout the world.
And after you have suffered a little while, the God of all grace,
Who has called you to His eternal glory in Christ,
will Himself restore, confirm, strengthen, and establish you.
To Him be the dominion forever and ever.  Amen.
1 Peter 5:6-11

Let this be our prayer for our nation and our world.