It begins with an intimate dinner.  In a private banquet room where Esther the Queen, King Xerxes, and Haman are gathered…and it ends with a man nailed to the tree until He is dead. Centuries after this supper, another supper was held in a room upstairs in a building in Jerusalem.  The disciples were there, Jesus was there, and Judas the traitor.   Like Haman, he was intent only on fulfilling his own desires.  He was willing and ready to destroy everything and everyone to get his way; and that's exactly what he did.  That supper ended also with a man nailed to a tree.  Jesus is who you are thinking of, right?  But no, it was Judas.  Scripture tells us that after he betrayed Jesus, Judas went and hanged himself, just as Haman practically hanged himself.
Let's start this week's recap with Esther 7:1-6 first.  
I don't know about you, but I'm proud of Esther.  She is finally breaking the silence and telling her man what is on her mind.  Remember earlier in this study, Esther had asked the Jews to join her in a fast for three days.  I believe it was in preparation for coming before the king and exposing Haman.  Now was her time to speak up.  The stage was set as the king, queen and the wicked Haman sit down together and wham! Esther courageously announces her nationality and exposes Haman.  Can't you hear his jaw dropping?   And I imagine his heart stopped beating for a moment, he broke into a sweat and lost color in his face!  He learns for the first time that the Queen herself is a Jew—the same race he wants to annihilate!  Remember what Haman's wife had said to him that day? "Since Mordechai, before whom your downfall has started, is of Jewish origin, you cannot stand against him~you will surely come to ruin."  Now he finds out the Queen herself is also Jewish!
I imagine the King was speechless as well.  He didn't know Esther was a Jew either.  He just thought he was sitting down to hear his wife's petitions.  Now he realizes that his own wife's life is at stake and she, herself, could die.  His own wife is not safe in his own kingdom.
Esther 7:5-6 – Recap
King Xerxes asks, "Who is he? Where is the man who has dared to do such a thing?"  Esther replied, "The adversary and enemy is this vile Haman."  Then Haman was terrified before the king and queen.
The king demands to know who is out to get his wife.  What a turn of events, what a fall from grace!  Wasn't it just yesterday that Haman thought the king would always honor him?  Now the king wants revenge.  Yesterday Haman had the world in his hands…today his death is imminent. Now Haman is about to beg for his life….
Esther 7:7-10 – Recap
The king got up in a rage, left his wine, and went out into the palace garden.  But Haman, realizing that the king had already decided his fate, stayed behind to beg Queen Esther for his life.  Just as the king returned from the palace garden to the banquet hall, Haman was falling on the couch where Esther was reclining.  The king exclaimed, "Will he even molest the Queen while she is with me in the house?"  As soon as the word left the king's mouth, they covered Haman's face.  Then one of them, who was named Harbonah, said "Haman even went so far as to build a gallows at his house so that he could hang Mordecai, who saved Your Majesty's life, and it's 75 feet tall." "Hang Haman on it!" the king commanded. So Haman was hanged on the gallows that he had built for Mordecai.  Then the king's anger cooled down."
Haman is a type of what the Bible calls 'flesh.'  Meaning that he is, and has, the self-centered type of nature that we all have naturally.  We are born this way and it can dominate us just the way it dominated Haman.  Instead of us all coming together as the Body of Christ, we sometimes end up fighting the very ones we should be teaming up with and fighting the real enemy—Satan. Sometimes we say, "Well that's just who I am, or it won't ever change;" that's a lie also. Sometimes, as Christians, we don't even realize or recognize the "Haman" in us.  Yet the Bible promises us that we no longer have to be ruled by that principle anymore.  Haman doesn't have to stay on the throne!  Stand on the promise that "in Christ" that old nature has no hold on you and you are sending it to the gallows. The Bible says "walk by the Spirit, and you will not carry out the desires of the flesh" (Galatians 5:16).
Revelation concerning the true nature of Haman had come to the king and he sent Haman to his own gallows and hung him.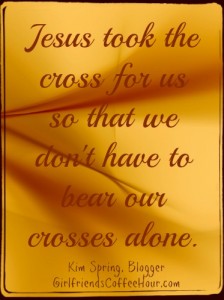 Have you had any revelations as to who is calling the shots in your life?  Jesus promises us an abundant life and that life comes from the joy we have in being saved by Him.  When we live and try to walk the path of righteousness and stay connected to our Lord, we are free and joyful and we walk a little lighter.  Hand over all your problems and things that are holding you captive today. Jesus took the Cross for us so that we don't have to bear our crosses alone.
Let's Pray:
Dear Heavenly Father, We love You and praise You today.  Lord, keep us humble and bring to light anything that would hinder us from receiving Your full blessing.  Help us to realize who the real enemy is and join together and celebrate each others victories and love each other like Jesus loves us.  Lord, we nail our flesh to a tree, and we walk in Your Spirit always.  Life is so amazing every day with Your fingerprints all over our lives.  In Jesus' name.
Amen.