Hello there everyone!  
I know that we have been doing interviews and that is probably what you are expecting from me today.  I know you are probably wanting to get to know another friend that will be doing this study with you, but truth be told I was unable to interview someone this week.  I was nervous about what I was going to do, kind of feeling like a failure.  I was praying about it a lot and then God gave me an idea.  One thing I have learned in my life is that no matter what – God always comes through.  When I think there is no solution, the Lord opens my eyes to HIS solution!  Just when I was worried about my blog this week, God came through with the most perfect idea for a blog post for you.  I may not have a decaf friend to introduce to you this week, but I have another friend who I would like to share with you this week, Jesus!
I am wondering how many of you have done a Bible study before.  My first study was in 6th grade.  We did a study on Job at church.  I still remember things from that study.  One thing I really liked about the study was that we prayed before we discussed the study.  The leader would welcome God to our study that day.  Being eleven years old, I was kind of confused as to how God can be in our study with us.  I believed that God was there, but I could not see Him so if it were not for that prayer, I would have completely forgotten that God was really there with us doing the study with us.  He was the most important part of our study.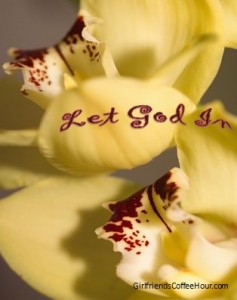 God is the most important part of GCH: decaf.  God has placed each and every one of you here for a reason.  God desires to be apart of not only this study, but our lives too.  Without God, there is really no point in doing a Bible study.  As we start our new study, Not A Fan, let's think about what God wants this study to be.  What do you think He wants you to learn?  What do you think He wants to you say?  There is something for each and every one of you that God has prepared for you in this study.
I have done this study years ago.  When I did this study, my take away moment was learning to picture myself following God everywhere I go.  This has made my relationship with God even closer.  It has helped me remember that even though I cannot see God, He is there, desiring to have me make Him the most important part of every aspect of my life.
I want to dedicate this blog to honoring God for bringing us together and giving us this opportunity to make new friends and grow closer to Him.  I want to invite God into every aspect of our group!  Giving God control of this study can only guarantee one thing: It will be better than anything we can picture or imagine!  Letting God into our study, we let Him transform this study into something HUGE, something better than we could ever do on our own!  I do not know about you, but I am really excited to grow closer to God with all of you.  Would you like to get to know God more and more?  I hope you see Him as your friend, comforter, and Savior.
For me, God is where my heart is.  God is the reason why I am here.  I love God so much.  I look to Him as my Father, and Protector.  He is the most important thing in my life.  Let's share today who God is to us.  I thank God so much for being exactly what we need!  I thank Him for being a part of this group!  I thank Him for loving us!
Love and Prayers,
Diane
~~~~~~~~~~~~~~~~~~~~~~~~~~~~~~~~~~~~~~~~~~~~~~~~~~~~~~~~~~~~~~~~~~~~~~~~~~~~~~~~~~~~~~~~~~~~~~~~~~~~~
If you are interested in sending a private email to Diane, you may email her at:  Diane@girlfriendscoffeehour.com