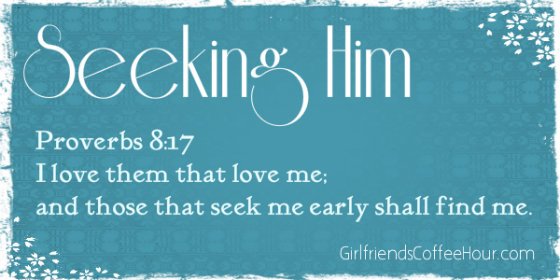 {This final week of 2015 we will be re-visiting some of my personal favorite themes on which our wonderful writers have shared with us throughout this past year.  I hope that you (as I was, too!) will be encouraged and reminded of God's faithfulness and loving care through their inspired words.}
Do not be anxious or worried about anything,
but in everything [every circumstance and situation]
by prayer and petition with thanksgiving,
continue to make your [specific] requests known to God.
Philippians 4:6 AMP 

*  ~  ♥  ~  ✞  ~  ♥  ~  *
Here on the Seeking Him devotional blog, we have been focusing our thoughts for the past few weeks on giving thanks, gratitude, and being thankful.  This week our devotional writers have encouraged us to remember that it is possible to bring all our cares and concerns…and worries and anxieties…to God through prayers of thankfulness.  Please click on the indivdual links to read each complete devotional; here are a few excerpts from their thoughts.
In Worry versus Thankfulness, Clella gave us truth and promises to hold onto…
"These Scriptures in Philippians and 1 Timothy tell us to pray about everything-–every circumstance, every situation, every person in our life.  We are to tell God about everything we need (and even the things we perceive we need.)  Why? Because He cares about you (each of us.)

Give all your worries and cares to God,
for He cares about you.
1 Peter 5:7…."
❦
In Trust and Thank God, Tina asked a really good question…
"What are we saying to God when we choose to worry and fret over a situation? Are we saying we do not trust Him to care? Are we saying this situation is too small for You to handle, I do not want to bother you with it? Yes, my friend we are. Just as you would go to a friend, or mentor, or mom, and tell them what is going one, God wants us to go to Him and cast our problems and lay them down at His feet…."
❦
In Anxiety, Ann enumerated five different ways in which prayer is 'the essential cure for worry', and reminded us that…
"Therefore, I urge each one of us not to murmur and worry when we face the  adversaries of this life.  Take it to God in prayer.  He is the Author and Finisher of our faith.  And there is nothing hard for him.  All things are possible…".
❦
In Thankful for the Blessing, Ahmee warned us of how easy path is to treat the Scriptures with a 'mundane' or familiar attitude…
"So, we are to tell God what we need (or want) and then we are to thank Him for what He has already done. I feel that we are told to do this, because it is to help us remember that God is faithful and has shown us that He is faithful, but to also keep us grateful for all the Lord has helped us with and provided for us, AND it's to help us keep a thankful heart…"

❦