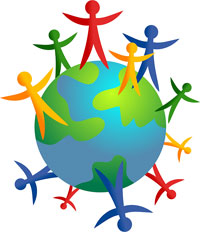 There is a semi-old song that I think about when I think of the girls I have met through this GCH:Decaf ministry.  I have been singing it a lot lately.  If you have never listened to the girl group you should really look them up.  They have some awesome harmonies and the words to their songs are really relevant.  Chances are you have heard their songs and just didn't know who sings them.  Anyway, the song I have had on my heart is "Circle of Friends".  Here is the first part:
We were made to love and be loved
But the price this world demands will cost you far too much
I spent so many years just trying to fit in
Now I've found a place in this circle of friends
In a circle of friends we have one Father
In a circle of friends we share this prayer
That every orphaned soul will know
And all will enter in
To the shelter of this circle of friends
That is how I feel about all of the new friends I have met through the study of "A Daughter's Worth" by Ava Sturgeon.  We began the study as just a group of random hearts from all over the United States mostly, then, we had friends join us in other countries.  People began reading our study blogs in over 100 countries around the world.  The leaders and the girls in the groups became friends and we got to know each other through our Facebook groups.  This study, this group of leaders, this group of girls has changed my life and I want to say Thank You to each one.  I'm sure there will be more lives touched through the words spoken through the blogs than we will ever know.  I pray that God multiplies the hearts blessed by the words He inspired us to write and publish.  The next verse of the song:
If you weep, I will weep with you
If you sing for joy the rest of us will lift our voices too
But no matter what you feel inside there's no need to pretend
That's the way it is in this circle of friends
Many of you have shared your hearts and hurts with us during this study.  We have grown close and that makes this Mama's heart so happy.  We have loved to cry with you and sing with you and celebrate with you.  We are your FRIENDS and you are ours.  As we began making plans for the next study we looked at many things that might make a difference in the lives of teen girls and young women.  We began talking about doing the study "not a fan" by Kyle Idleman.  As we continued to pray and make decisions, it was becoming apparent that we needed to take a step back for a time.  We have decided to not go forward with a new Bible study for teens with Girlfriends Coffee Hour Ministry right now.  There are many exciting things happening at GCH.  I believe God will continue to bless the women as they minister to other women all over the world in the areas they have chosen to pour their hearts into.
                Among the nations, tribes and tongues we have sisters and brothers
                And when we meet in heaven we will recognize each other
                 With joy so deep and love so sweet
                Oh we'll celebrate these friends
                And a life that never ends
                In a Prayer
                That will not be long before
                All will enter in
                To the shelter of this circle of friends
Because we have all become social media friends, we can contact each other whenever we want to.  Please know that your leaders love you all very much and would love the chance to keep in touch and be a part of your life as you mature.  Remember us if you ever need someone to pray for you, we would love that.  If you have questions about anything, please message us and we will be there for you.
                In a CIRCLE of FRIENDS we have one FATHER,
                In a CIRCLE of FRIENDS we share this prayer,
                That every orphaned soul will know and ALL will enter in,
                To the shelter of this CIRCLE of FRIENDS.
May our Father God bless and keep each of you until we meet again.  If you want to reach me you can find me at Teresa@girlfriendscoffeehour.com or leave me a comment here.  I'd love to hear from you.
Mama T
Song Credit goes to Point of Grace – Circle of Friends
Words and music by Douglas McKelvey and Steve Siler