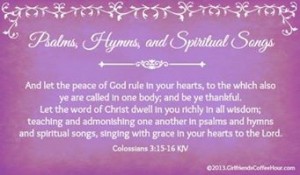 I looked in the mirror of Your Word knowing I'd see
A clear reflection of what You saw in me
You gently showed me the state my heart was in
And how the world had deceived me again
Went away determined to take the narrow path
But in a moment my foolish ways were back
It's elementary there must be something wrong
And I'm starting to realize this can't go on
(Wanna be a) doer of Your Word
Never, ever forget the truth that I have learned
(Be a) doer of Your Word
I wanna be a doer of Your Word
Keep on obeying everything I've heard
(Be a) doer of Your Word
It's not the first time its happened won't be the last
I think I'm finally mature but just a little too fast
I close my Bible convinced I'm really changed
But I'm not any different 'til I obey
What does it mean to call You Lord of my life
If I ignore the things You say
Help me remember that my greatest delight
Is following Your commands
And give me strength to stand and be a doer of Your Word
Songwriter: Bob Kauflin ~~ Performed by Glad
*  ~  ♥  ~  ✞  ~  ♥  ~  *
"If you know…you must do.  Because to NOT do,
when you KNOW, then there is a problem."
– Mrs. Lisa Bevere
And here's why she said that…
Therefore, to one who knows the right thing to do
and does not do it, to him it is sin.
James 4:17
Ouch. So. True!   This struck my heart and caused me to remember the admonition and encouragement from the Book of James on this very topic.
But prove yourselves doers of the Word,
and not merely hearers who delude themselves.
For if anyone is a hearer of the Word and not a doer,
he is like a man who looks at his natural face in a mirror;
for once he has looked at himself and gone away,
he has immediately forgotten what kind of person he was.
But one who looks intently at the perfect law,
the Law of liberty, and abides by it,
not having become a forgetful hearer but an effectual doer,
this man will be blessed in what he does.
James 1:22-25 NASB
I just ♥ the Book of James, don't you?!?  Here in chapter one, we are being
built up to handle the temptations that invariably come our way (verses 2-4)
encouraged to ASK God for His wisdom knowing that He gives it generously (verse 5)
reminded that rewards await us eternally when we persevere in these trials (verse 12)
thankful because our Father only gives what is good and perfect to us (verse 17)
warned to be quick to hear, slow to speak and slow to anger (verse 19)
And then James writes, "But prove yourselves doers of the word…" (verse 22).  Yes, oh, yes; yes, I will!  Does your heart respond like that? (I do think that it does!)  Throughout the Scriptures, '…men spoke from God as they were moved by the Holy Spirit' (2 Peter 1:21), and that is how we received the Scriptures.   As we read and consider and contemplate the words in God's Word we are moved and compelled and motivated and spurred on (and convicted and reproved also!).  They motivate us to be DO-ers and not hearers only.
But if we want to be DO-ers of the Word then we must be HEAR-ers also. Now I don't think this simply and exclusively means that we are to ONLY be audibly listening to the Scriptures. I think that it means really hearing it…in your mind and in your heart! And trusting and having faith in what is 'heard.'
So faith comes from hearing, and hearing by the word of Christ.
Romans 10:17
A good friend once said, "Don't just listen to it…don't just study it; you have to DO what it says. Otherwise, you fool yourselves. It is wasted…and the Word will NOT be wasted!"  She went on to share a question that she regularly asks herself,
{ Am I doing the things that I am studying and learning and absorbing? }

(Wanna be a) doer of Your Word
Never, ever forget the truth that I have learned
(Be a) doer of Your Word
I wanna be a doer of Your Word
Keep on obeying everything I've heard
(Be a) doer of Your Word