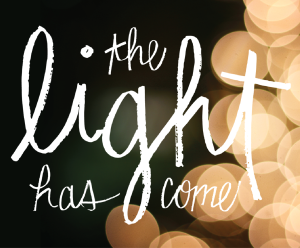 In the beginning [before all time] was the Word (Christ),
and the Word was with God,
and the Word was God Himself.
He was [continually existing] in the beginning [co-eternally] with God
All things were made and came into existence through Him;
and without Him not one thing was made that has come into being.
In Him was life [and the power to bestow life],
and the life was the Light of men.
The Light shines on in the darkness,
and the darkness did not understand it or overpower it
or appropriate it or absorb it [and is unreceptive to it].
John 1:1-5 AMP
*   ♥  ~  ✝  ~  ★   *
Darkness is defined as the absence of light.  The only thing that can make darkness disappear is light.  Think about it…at night a small light can be seen from very far away.  We see stars that are millions of miles away.  Makes sense, right?  As I was studying this Scripture, I had a "lightbulb" moment < pun intended 😉 >
Before I accepted Jesus, my soul was dark.  There was no light to dispel the darkness.  Life and light aren't just in Jesus.  Jesus IS Life and Light.  Look at John 8:12 NASB:
Then Jesus again spoke to them, saying,
"I am the Light of the world;
he who follows Me will not walk in the darkness,
but will have the Light of life."
Jesus IS the Light of men.  John 12:46 ESV reiterates this:
I have come into the world as Light,
so that whoever believes in me may not remain in darkness.
We do not have to stay in darkness!  I love John 1:5.  Darkness does not understand, comprehend, or grasp the Light but must acknowledge it.  Darkness cannot overtake, overcome, overpower, extinguish, or absorb the Light but must reflect it.  Isn't that amazing? What is the best way to deal with the darkness of this world?  Add more light.  Darkness cannot hide the Light!  2 Corinthians 4:6 NASB promises: "Light shall shine out of darkness."  Jesus' Light shines through us.  Jesus gives us life and light.  Out of the darkness of our soul, the Light of Jesus shines.  John MacArthur puts it like this:
"The light in us is His light, the indwelling Christ, the Holy Spirit within us."
"…And the life was The Light of men" (John 1:4).  Heaven merged with humanity and was born in a manger to bring us the gift of Life and Light.  What a Gift we have been given!