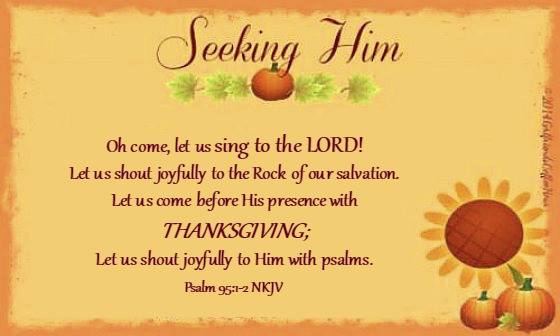 Rejoice always
Pray without ceasing
In everything give thanks
For this is God's will for you in Christ Jesus
1 Thessalonians 5:16-18
As our sisters have already reminded us this week—IN everything give thanks (not FOR everything)!
Y'know…there is a certain man whose dedication and commitment to God IN every situation and circumstance is recorded in the Old Testament.  I'll give you a hint or two, ok?
His friends tried to DISsuade him from giving thanks IN everything….
His wife clearly told him the situation was so bad that he should just 'curse God and die'….
Oh, I am SURE you recognize this man; yes?  Of course, it was righteous Job.  If ever there were someone who perceivably had nothing left for which to give thanks, it was Job.
Job was abundantly blessed by God: he had houses, and flocks, and herds of animals, and servants, and a great big family. One dreadful day, his 10 children were killed in a house collapse, his sheep, camels, oxen, and donkeys were stolen away, and all his servants (save the three who escaped and brought him the terrible news) were captured.  He could have complained to God bitterly. But he said,
Naked I came from my mother's womb, and naked I will depart. The Lord gave and the Lord has taken away; may the name of the Lord be praised.
Job 1:21
In all that Job went through, his attitude never wavered.  He knew that God is sovereign, that all that he had (or didn't have) was in God's hand.  And, like righteous Job, we too, should have this unwavering attitude of giving thanks to Almighty God IN all situations and circumstances.  Paul also reminded the 1st century Christians ( and us!) to do the same.
At all times and for everything giving thanks
in the name of our Lord Jesus Christ to God the Father.
Ephesians 5:20
Whatever you do in word or deed, do all in the name of the Lord Jesus,
giving thanks through Him to God the Father.
Colossians 3:17
Whatever is good and perfect is a gift coming down to us from God our Father,
Who created all the lights in the heavens. He never changes or casts a shifting shadow.
James 1:17
Truly, we should rejoice always  ♥  pray without ceasing  ♥  give thanks in everything!
Every day, throughout each day, let's speak and sing out our gratitude and thankfulness to our heavenly Father!  May our prayer be as David's…
To the end that my tongue and my heart
and everything glorious within me
may sing praise to You and not be silent.
O Lord my God, I will give thanks to You forever.
Psalm 30:12