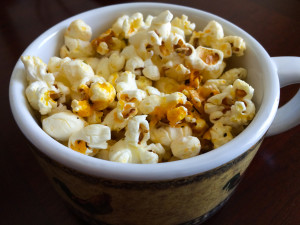 I have a well-documented popcorn addiction.  I'm not ashamed!  I like to fiddle around with the flavorings and see if I can change it up from regular butter and salt.  I think this one is an experiment gone RIGHT:  Sriracha Popcorn!
I went pretty easy on the Sriracha because I knew my girls would want to eat some of this and I didn't want to burn their little tongues.  But if you live in a house full of chile heads, crank it up!  I used honey to balance out the spiciness, but you could use brown sugar instead.  Ready to get poppin'?  Let's go!
Sriracha Popcorn
Ingredients:
4 tablespoons butter
1 teaspoon Sriracha (or other hot sauce – use more if you like!)
1 teaspoon honey
1 teaspoon Mrs. Dash, Italian herb blend, or other seasoning blend
3 tablespoons grapeseed oil or coconut oil for popping
1/2 cup popcorn kernels
salt to taste
Directions:
In a small pan over very low heat, melt together the butter with the Sriracha, honey, and seasoning blend.
Meanwhile, pop the popcorn in the grapeseed oil.
When popcorn is popped, pour the Sriracha butter over the popcorn.  Cover with a lid and shake.  Add salt to taste and shake again.  Store any leftovers in a Ziploc bag.
Explore, experiment, enjoy! — Dana
---
To view even more of Dana's unique recipe, you can visit her at Frugal Girlmet!