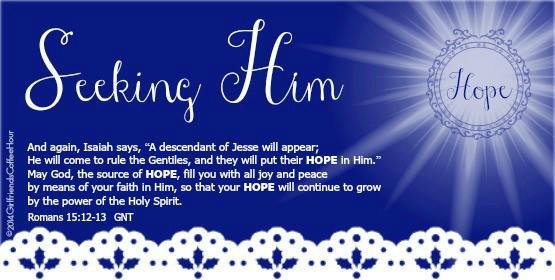 We have this hope as an anchor for the soul, firm and secure.
It enters the inner sanctuary behind the curtain,
where our forerunner, Jesus, has entered on our behalf.
Hebrews 6:19-20
Hope is a product of having faith that something that you have been looking for, or been desiring to have, will come to pass.
• Hope moves you from anxiety to fact of life
• Hope comes from deep inside your heart
• Hope gives confidence
Our Hope (the One Who moves us from anxiety and gives us confidence) is the Lord Jesus Christ.  He became our Hope of glory over 2000 years ago.  When faced with challenges in this life He (our Hope) should be our number one main Friend to go to before interacting with anyone else.
To whom God was pleased to make known how great for the Gentiles
are the riches of the glory of this mystery,
which is Christ within and among you, the Hope of glory.
Colossians 1:27
To hope in the Lord is to trust Him fully with our lives.  It involves looking to Him as our Source of help and grace in time of need.
…But those who hope in the Lord will renew their strength. They will soar on wings like eagles; they will run and not grow weary, they will walk and not be faint.
Isaiah 40:31
Those who hope in the Lord have His promise of
strength to revive them in the midst of exhaustion and weakness and suffering and trial
the ability to rise above their difficulties like an eagle that soars into the sky
the ability to run spiritually without tiring
being able to walk steadily forward without fainting at God's delays
God promises that if His people will patiently trust Him, He will provide whatever is needed to sustain them constantly.
However, we hope for something we have not yet seen, and we patiently wait for it.
Romans 8:25
Let us hold unswervingly to the hope we profess for He Who promised is faithful.
Romans 10:23
Sisters in the Lord, remember…no one who puts his/her hope in the Lord will be put to shame.
No one whose hope is in You will ever be put to shame
but they will be put to shame who are treacherous without excuse.
Psalm 25:3
*   ♥  ~  ✝  ~  ★    *  
Dear Lord, we thank You for You are a wonderful and loving Father, Who makes promises…and always fulfills Your promises.  We love You, Abba Father, for all the promises that You have fulfilled and those that you are yet to fulfill in our lives.  We have hope because You are perfecting everything for our good.  We trust You with our anxieties, challenges, and everything about us.  We trust in You for Your help.  Please help us to sort out our issues and perfect our walk with You in Jesus' name I pray. Amen.