Cookies…such a lovely tradition of giving during the Christmas holidays.  There are cookies to make for exchanges. There are cookies to make to fill tins and baskets that are given to friends and loved ones.  There are cookies to make for the cookie monsters in your own home!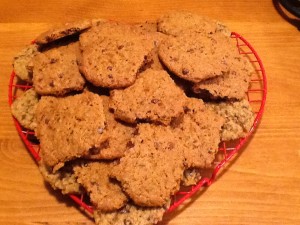 Chocolate Chip cookies seem to be a big-time favorite; how about at your house?  My recipe for Gluten-Free Chocolate Chip Cookies starts off with making a basic mix. This is a great recipe to double (even triple!) so that you can make a batch AND have the basic mix ready to quickly throw together another batch!  Or perhaps you could take the second batch and put into a large Mason jar and gift someone with it! And we (the grandkids and I) have been known to leave out the chocolate chips (oh!no!) and substitute another mix-in such as mini M&M's or some chopped nuts.   Here are a couple of recipes I found on the web for various types of mix-ins; some of these are so interesting!   Have fun!
relish.com – Chocolate Chip Cookies 7 ways
FoodNetwork.com – 10 mix-ins to update your Chocolate Chip cookies
huffingtonpost.com – 12 ways to make your Chocolate Chip cookies even better
Gluten Free Chocolate Chip Cookie MIX
(makes approximately 4 cups; enough for 4 dozen cookies)
ingredients:
2+1/4 cups good quality all-purpose gluten-free flour blend
1 teaspoon baking soda
1 teaspoon xanthan gum
1/2 teaspoon salt
3/4 cup dark brown sugar
3/4 cup coconut sugar (or table sugar)
12 ounce bag semi-sweet chocolate chips
directions:
place all ingredients (EXCEPT for the chocolate chips) into a large bowl and whisk together well.  if using immediately, pour in the chocolate chips. if not, pour the mix into a storage jar and add the chocolate chips right on top; seal well.
♥   ♥   ♥   ♥   ♥
Gluten Free Chocolate Chip Cookies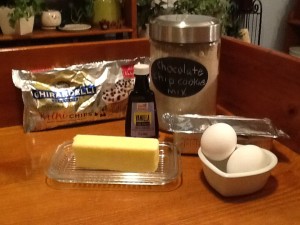 ingredients:
1 batch of above GF Chocolate Chip Cookie Mix
8 tablespoons butter (unsalted), room temperature
2 extra-large eggs, room temperature
1+1/2 teaspoons vanilla extract (NOT imitation, please!)
directions:
preheat oven to 325.  line two (2) large baking sheets with parchment paper; set aside
using a hand or stand mixer, beat together the room temperature butter and eggs 'til thoroughly incorporated; stir in the vanilla
pour 4 cups (or one batch) of the Cookie Mix into a very large bowl. by hand, stir in the liquid ingredients to thoroughly blend
add the chocolate chips (or mix-in of your choice); stir 'til evenly distributed
drop balls of dough (approximately 1+1/4″) onto the prepared baking sheets.  place the baking sheets (one at a time) into the freezer for 5 minutes to firm up
after the chill time, put cookies (one sheet at a time) into the oven
bake for 12-14 minutes (depending on the size of your dough balls) or 'til the bottoms are beginning to brown
remove from the oven. (I carefully lift the parchment from the cookie sheet directly onto a cooling rack—works beautifully!)
when cookies are thoroughly cooled, store in an airtight tin or jar.  whether you and your loved ones eat 'em or share 'em…enjoy!
*To make these cookies dairy-free, simply substitute 1 stick of butter-flavor shortening for the 8 tablespoons of butter; and purchase chocolate chips with no milk or milk products.  I use the Ghiradelli or the Enjoy Life brands.
 ♥   ♥   ♥   ♥   ♥
Merry Christmas from Mr. hayden and I!
God loves you!  ♥  (Don't ever forget that!)
♥  coleen