We have spent an amazing 3 months together.  We have explored our femininity, our gentle side, our warrior side, and one thing we know is that we are meant to be a complete woman. The woman God intended us to be.
As we wind down this study, how has it affected you?  Have you been able to connect with Jesus, your Lover, your Father, your Friend?  This is what He wants for us girls.  To be authentic.  Not to be a woman in a magazine, your neighbor or your friend.  He wants you to be YOU.
So who is that woman?  Have you discovered her?  If I have learned anything through this study is that we cannot be afraid to be who we are.  Who we were created to be.  It is time to stop hiding, ladies.  Step out in faith.  We need to be real and present in the moment.  Now.  If not, all our hard work will go to waste.
Throughout this study we have talked about freedom.  We need to live that out now.  Freedom to love and to be loved, freedom to be who we are, freedom to live completely and fully in Christ.  God loves you, and He wants you…all of you.  If you need a reminder of who that is: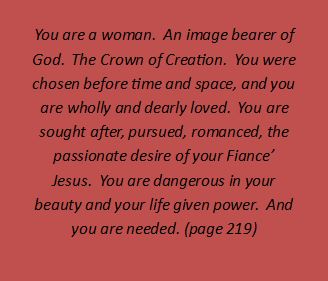 I am so excited to see what God has in store for each and every one of you.  Live large, wonderful women, God wouldn't want it any other way.
My lover spoke and said to me, "Arise my darling, my beautiful one, and come with me."    Song of Solomon 2:10
*****
LET'S PRAY:
Father, as we wind down this study, I know You will remain with each and every woman.  If the time ever comes when we start to question who we are in You or who we are meant to be, I ask You to please come alongside us in love and confirmation.  Remind us.  Help us to live fully in You as You created us to do.  We love You, Lord, and thank You for loving us with an unfailing faithfulness.  We pray this in Your Holy Name.  Amen.
 *****
If you would like to join us for the Girls with Swords Online Bible/Book Study,
click the "Sign-Up Here" button on our Menu Bar.