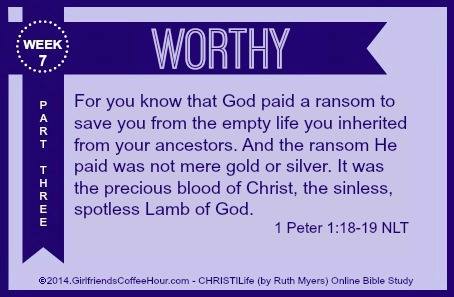 Worthy ~ having sufficient merit or importance, estimable, honorable
Do you know that you are worthy in your Father's eyes?  Read that definition again and let it sink in.  You are worthy.  Do you see that nowhere in that definition is the word "feeling"?  We rely so much on those, feelings I mean.  We base our worth on what we have done, who we have hurt, what we have said and who we have said it to.  You are not defined by what you have done, praise the Lord!  You cannot do anything to get in to Heaven.  You were bought with a price and that price was the life of Jesus Christ.  God loved us so much that He sent His Son to die on the Cross with every sin that we would ever sin on Him.  God had to turn His back on His own Son, they were separated by darkness—His only Son was beaten and suffered for you.
The only way to be worthy is through Jesus Christ.  You have to accept Him as your personal Savior; apart from Him, you are not worthy.  It's that simple, really.  You confess with your mouth that you are a sinner and you fall short of the glory of God;  then you ask for forgiveness and ask Jesus to come live in you and walk with you through this life and to fill you with His joy.  Oh friend, I cannot begin to tell you how amazing this is.  If this is hard for you to believe, and even if it's not, listen to just how worthy He says you are!
But God so rich in mercy and He loved us so much
that even though we were dead because of our sins,
He gave us life when He raised Christ from the dead.
(It is only by God's grace that you have been saved!)
For He raised us from the dead along with Christ
and seated us with Him in the Heavenly realms
because we are united with Christ Jesus.
Ephesians 2:4-6 NLT
If you are a parent, when you hold that beautiful baby in your arms, you are in love. Fast forward to the years that they try you every single day.  Are they still worthy to be your child?  Yes!  Just as our Heavenly Father feels about us, no matter how far down we have gone, He still loves us and calls us His.  He designed each one of us to do good works for Christ.  And He wants us to do good works of eternal significance.  We are called and chosen by God to finish well.
Think about this: God made us. We may all get here differently.  Some are prayed for and loved on.  Some are unwanted by their parents while some are brought in with love.  We may not like our circumstances but each one of us has the chance to be born again.  Before the earth was created, God knew all of the details of our lives. Here's what we do know:
God chooses us: You are chosen, individually by name.
God is always with us: Even if our parents have neglected us, God never leaves us or forsakes us.
God names us: Before we were given a name by our parents, God already knew us.
God calls us: We are all wanted! God wanted us because He called us and designed us from the womb.
God saves us: He has made a way for us to be born-again!  You actually get a do-over!  He wipes away all your sins, your many mistakes and messes and gives you a clean slate. He writes your name in the Book of Life with a pen…it cannot be erased. He gives you a hope for the future! His mercies are new every day, to all of us! Each one of us has the same opportunity with God! Whether you are rich or poor, sick or well, God sees us all the same—His!
God is our Father: You may have a father that doesn't interact with you, or maybe he's never told you that you matter.  But God promises us that we can know His voice and that we will become more like Him daily, as we spend time with Him and in His Word.
God chose you despite your failures and sometimes uses them for His benefit.  Now it's our job to spread the hope to others.  God's people are hurting and may be feeling a little less than worthy but we know they are and we need to tell them.  So from now on, don't overlook anyone.  Make everyone feel important and tell them this: "God loves you!"
* ~ * ~ * ~ * ~ *
Let us pray: Dearest Lord, thank You for creating us and loving us before we were ever a thought in our parent's mind.  Thank You for having such good things in store for us and for all the blessings that rain down on us every day.  You are amazing and so loving and we praise You for that.  Lord, forgive us when we speak negative to ourselves.  Help us to remember Whose we are always and may we never forget the price You paid for us.  Give us the courage to step out of our comfort zone and tell others that they are loved by You and that You have a great plan for us all.  Keep us humble, oh God, and keep our ears open so we will hear Your voice always over the lies of the enemy.  We love You and we thank You.  It's in Jesus' name.  Amen.