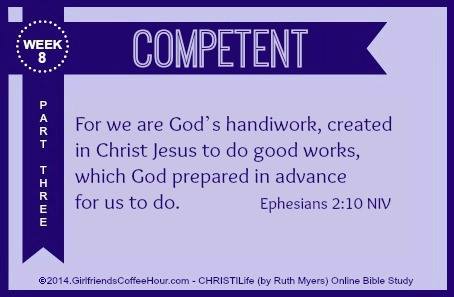 We have this kind of confidence toward God through Christ.
It is not that we are competent in ourselves to consider anything
as coming from ourselves, but our competence is from God.
2 Corinthians 3:4 and 5
This is the Truth.  There is nothing, not anything, not even one tiny bit that you (or me, too!) can do to add to…or even take away from…this fact.  Our competency (some versions use the word 'sufficiency') comes from Almighty God.  He planned for it, He purposed it, He predestined us to be competent…through Christ.
"How, Coleen?" you might ask.  The 'how' is by continuing to learn about who we are in Jesus…and Who He is…through the Scriptures!  We seek Him and keep our eyes on Him.  As we do, we will be transfigured (or changed) into His very own image! (Those are not my words…listen!)
And all of us, as with unveiled face, [because we] continued to behold
[in the Word of God] as in a mirror the glory of the Lord,
are constantly being transfigured into His very own image
in ever increasing splendor and from one degree of glory to another;
2 Corinthians 3:18
"God has purposed for us to share in Christ's glory so that the glory of the Son might be magnified in the countless mirrors of those who are conformed to His image."  Every believer (you and me!) has this supernatural thing done in them by God's grace and mercy!  It is a continual process, this redeeming work, and has been begun by our Lord in each of us!  It is part who God knew you (me, too!) to be before the foundations of the world.
For those whom He foreknew He also predestined to be conformed to the image of His Son,
in order that He might be the firstborn among many brothers.
And those whom He predestined He also called, and those whom He called He also justified,
and those whom He justified He also glorified.
Romans 8:29-30
This is our competency—our sufficiency IN Christ—already accomplished for us.  We must have the mindset that 'I AM who God says I am!'  We must keep the Truth in our minds, replacing the negative images we have thought about ourselves for so long with the righteous, holy, sanctified, justified, TRUE images that the Lord tells us we ARE!
So if you have been raised with the Messiah, seek what is above,
where the Messiah is, seated at the right hand of God.
Set your minds on what is above, not on what is on the earth.
For you have died, and your life is hidden with the Messiah in God.
When the Messiah, who is your life, is revealed,
then you also will be revealed with Him in glory.
Colossians 3:1-4
The day will come when the fullness, the completeness, the total magnitude of ALL that God has purposed will come to pass.  At that time we, too, will BE the glory of the Lord! At that time we will no longer be hidden in Christ but will be revealed in full with Him in glory!  But even now, we have been made sufficient and competent!  We are constantly being transfigured (changed). We can do!
For we are God's [own] handiwork (His workmanship), recreated in Christ Jesus, [born anew] that we may do those good works which God predestined (planned beforehand) for us [taking paths which He prepared ahead of time], that we should walk in them.

Ephesians 2:10
We ARE who God says we are!  And we are ready to be the fullness of His glory, amen? Come quickly, Lord Jesus!  We want to be all that God has purposed for us to be!  We want to bring honor and glory to You!