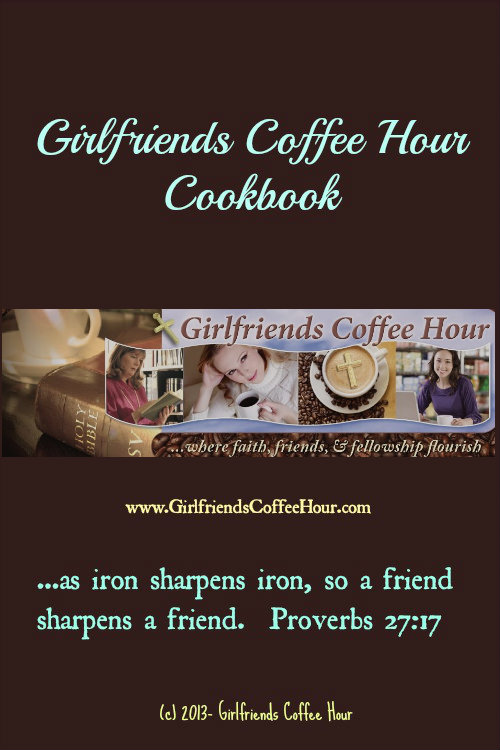 We are so very excited to introduce our very first
Girlfriends Coffee Hour Cookbook!  
We have a lot of good cooks at Girlfriends Coffee Hour, and each one has shared some of their favorite recipes with you in this cookbook! You will find over 100 pages of delicious appetizers, scrumptious soups, yummy desserts, mouth-watering main dishes, and so much more!  We have even thrown in some "fun" recipes for you, too!  We hope you love this cookbook!  Keep in mind that the cookbook is also great for gift-giving; perfect for Mother's Day, Birthdays, New Brides, and much more!
Girlfriends Coffee Hour is an amazing group of women from all over the world, who love the Lord Jesus with all their hearts.  We share our faith, our love, and our prayer support with each woman that joins one of our online Bible studies.  Girlfriends Coffee Hour is a volunteer ministry supported solely through donations.  The purchase of this cookbook is just one way that you can help support our ministry and website costs; and in so doing, you are also helping us reach the World for God's Kingdom!  We sincerely appreciate your support of this ministry.
For copyright reasons, you are not allowed to share this cookbook with others for profit.  We do hope, however, that you will share this link with your family & friends to help support our ministry!
God bless you!
Girlfriends Coffee Hour