So, to spare you another butternut recipe 😉 here's one that is delicious—HERB-licious, that is!  Whether you are blessed to have fresh herbs on hand or are relying (like me) on your stash of dried herbs, this is a very tasty way to serve roasted cauliflower.
Large, beautiful heads of cauliflower are super-abundant in our area now and for the rest of the Fall season.  Cauliflower makes for an excellent low carb stand-in for more traditional carb-laden foods like potatoes and rice.  Here are some nutrition facts which will show the value of eating (often!) this wonderful veggie.
And this whole recipe from cutting up the cauliflower (here's a link to an efficient way to do that job) to grating on the Parm right before serving will take you just about one half hour…really!
Herb-licious Roasted Cauliflower Skillet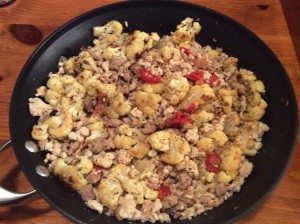 ingredients:
1 head cauliflower, about 2#
3-4 tablespoons olive oil (or coconut oil), divided
2-3 teaspoons (combined) of dried herbs (thyme, tarragon, crushed rosemary), your choice
sea salt, freshly ground pepper
2 (or more!) tablespoons of minced garlic
3 links of uncooked chicken (or turkey) sausage, removed from casings
1/2 # ground chicken or turkey
1 medium onion, diced
handful of grape or cherry tomatoes, halved
2 tablespoons finely grated Parmesan cheese
directions:
heat the oven to 425; line a baking sheet with parchment paper
cut the cauliflower up into bite-sized florets; and place into a large bowl
add 2 (or 3 if necessary) tablespoons of oil, all the herbs and a teaspoon each of s&p; combine
pour onto the lined baking sheet and bake for 15 minutes; pull out of the oven
scatter the minced garlic and tomatoes over the cauliflower and gently combine
continue to roast for another 5 minutes or so 'til cauliflower is lightly browned and easily pierced with a sharp knife; remove from oven
meanwhile, heat 1 tablespoon of oil in a large sauté pan over medium-high heat
add the onion and sausage and cook for 5 minutes, using a spoon to break up the meat as it cooks
crumble in the ground meat; and continue to cook for another 6 minutes or so 'til all the meat is thoroughly cooked through and broken up into small-ish chunks; reduce heat to very low
taste the <thoroughly cooked> meat, add s&p to taste
when cauliflower is ready, add to skillet and stir to combine
top with cheese, if desired
   ♥      ♥      ♥      ♥      ♥ 
God loves you!   ♥  (Don't ever forget that!)
♥  coleen