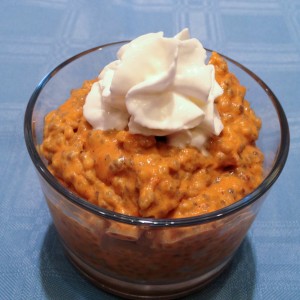 It seems like when we turn the calendar page to October, we all mysteriously start craving PUMPKIN!   I am not immune.   However, I didn't want to make a big sugar bomb, so I searched around for something to satisfy the pumpkin craving and not spike my insulin.  Bingo:  Pumpkin Chia Pudding!
If you've never made chia pudding, now's your chance.  I love it – the texture is a crazy blend of creamy and crunchy—like tapioca with attitude!  I make it with coconut milk, but you can try another nut milk or soy milk if that's your thing.  This was ready to eat in an hour, and tastes just like pumpkin pie.  What more can you ask for?!
Pumpkin Chia Pudding
Ingredients:
1 can full-fat coconut milk (about 2 cups)
1/2 can pumpkin puree (about 1 cup, or use one cup of roasted and mashed pumpkin)
1/2 teaspoon pumpkin pie spice (or combine cinnamon, nutmeg, allspice and cloves)
1/2 teaspoon vanilla extract
2 tablespoons honey or maple syrup
1/4 cup chia seeds
Directions:
In a blender or food processor, blend the coconut milk, pumpkin puree, pumpkin pie spice, vanilla, and honey together.
Pour into a Tupperware container with a tight-fitting lid, or a very large jar with a lid.  Add the chia seeds and Shake!  Shake!  Shake!
Refrigerate.  After another hour, shake again!  If it's cold, go ahead and eat it!  Garnish with a little whipped cream if you like.
Explore, experiment, enjoy! — Dana
---
To view even more of Dana's unique recipe, you can visit her at Frugal Girlmet!