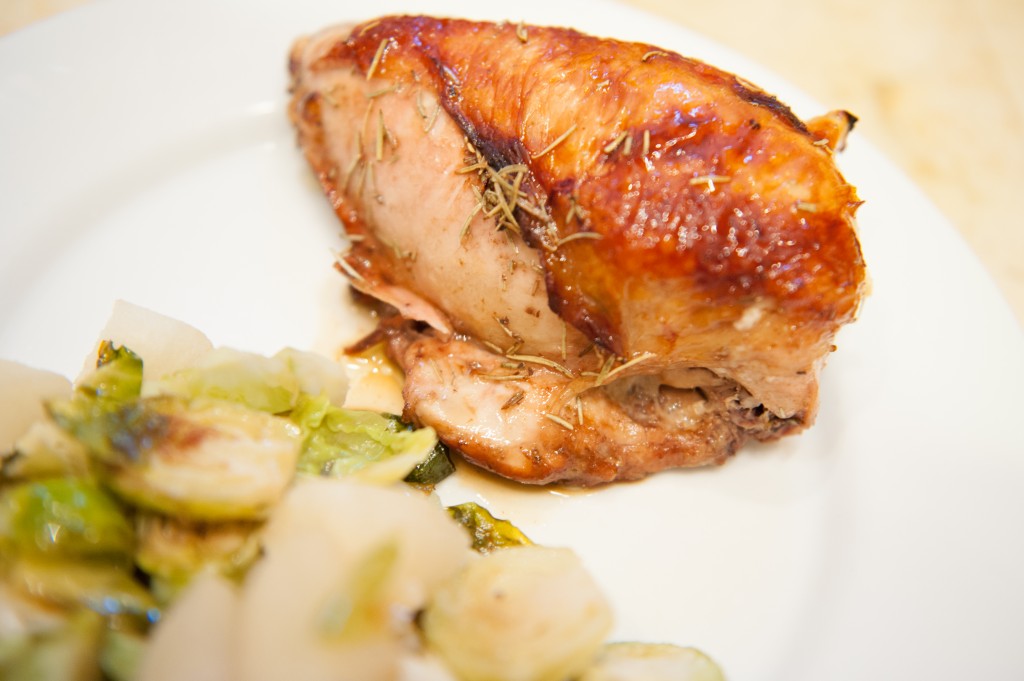 I had a hard time figuring out what to call this recipe.  In my head, I call it "Quarter Cup Chicken," and you'll see why when you look at the ingredients; but that wasn't very descriptive.  This is one of those everyday, basic dishes that you end up falling in love with for its simplicity and ease of preparation.
I didn't have any on hand this time around, but I like to add in quartered onions and baby potatoes, cut in half.  The onions get soft and smooth, the potatoes get a little roasted crust, and they both play nicely with the chicken.  Feel free to make this recipe with all drumsticks, or all breasts—whatever you like best.  Just make sure you use bone-in, skin-on chicken.  Also, dried rosemary works fine…but fresh rosemary really makes this dish sing!
Balsamic Roasted Chicken
Ingredients:
1/4 cup soy sauce

1/4 cup balsamic vinegar
1/4 cup honey
1/4 cup olive oil
1 tablespoon chopped rosemary needles
1 chicken, cut into pieces (or any combination of bone-in, skin-on chicken pieces)
Directions:
In a large Ziploc bag, add the soy sauce, vinegar, honey, oil, and rosemary.  Squish around to combine, then add the chicken pieces.  Squish around some more, making sure all the chicken pieces are coated in the marinade.  Refrigerate for 1 – 8 hours.  (You could do this in the morning and cook it at night, but I wouldn't let it marinate overnight, or the chicken might break down too much.)

Preheat oven to 400*F.  In a large Dutch oven or roasting pan, empty the bag – get all the marinade in there too!  You can add quartered red or white onions, halved baby potatoes, 2-inch chunks of regular potato, or even large chunks of sweet potato.  Toss to coat everything.  Bake for 45 minutes, or until internal temperature of chicken reaches 170*F.
That's it!  I served this with roasted Brussels Sprouts and Korean Pear.
Explore, experiment, enjoy! — Dana
---
To view even more of Dana's unique recipes, you can visit her at Frugal Girlmet!