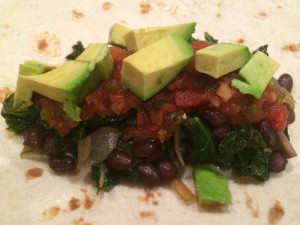 Despite what restaurants would have you believe, a burrito (or taco, for that matter) doesn't have to be the same boring combo of meat, rice, and beans.  Believe it or not, you can make burritos or tacos with whatever you have.  I have a great cookbook by Rick Bayless, who despite his gringo name, is one of the preeminent Mexican chefs in America.  His book has recipes for mushroom tacos, squash tacos – you name it, you can make it into burrito or taco filling.  Following his lead, I steered clear of the meat-rice-beans set-up and created my own version of the Veggie Burrito!
Of course, you can use whatever veggies you like, and please feel free to add or subtract vegetables from my recipe.  This one features toothy black beans (instead of the heavy refried beans you usually find plastered to the inside of a tortilla), onions, chopped mushrooms and sautéed kale.  Then get crazy with the accoutrements:  salsa, cheese, diced avocado, sour cream (or Greek yogurt in my case).  Need something a little more filling?  Replace the boring rice with quinoa!  You get more protein that way.
If you have leftover veggie mix, you can just heat it up and serve with a fried egg on top for a healthy breakfast, or make a burrito bowl:  veggie mix, quinoa, avocado, salsa – basically everything but the tortilla!
Veggie Burritos (Makes 2 burritos)
Ingredients:
2 tablespoons butter
1/2 teaspoon salt
1 small onion, chopped
4 cups chopped kale, washed
8 ounces mushrooms (white or cremini), sliced
1 can black beans, drained
salt and pepper
2 tortillas
salsa, grated cheese, sour cream or Greek yogurt, chopped avocado, cooked quinoa – your choice of any or all
Directions:
In a large frying pan with a lid, add the butter, salt, and chopped onion.  Cook over medium for about five to ten minutes to get a little color.  Don't let them burn!
While the onions are cooking, prepare the kale – wash and spin it.  It doesn't need to be dry, since a little water will help it steam and get tender.  Slice the mushrooms.
Stir the washed kale into the onions in the frying pan and cover with a lid.  Cook for about 5 minutes.  Then remove the lid and add the mushrooms.  Cook for five to ten minutes, until most of the water has evaporated and the mushrooms are cooked through.  Add the black beans and stir for another minute.
Put the two tortillas on a plate and cover with a damp dish towel.  Microwave for 30 seconds, then fill with a heaping scoop of the veggie mix.  Top with salsa, cheese, et cetera, and fold tortilla to close.
Explore, experiment, enjoy! — Dana
---
To view even more of Dana's unique recipe, you can visit her at Frugal Girlmet!