Okay, before we go any further…if you want to make deviled eggs for your Easter celebration meal…go to the store TODAY and buy your eggs.  Seriously, really fresh eggs are v-e-r-y difficult to peel!  Been there…done that!  Anyone else?  And also, may I suggest you purchase the very best (i.e., the most nutritious, healthiest) egg your money can buy.  Yes, they may be a bit more expensive but SO worth it!
Our recipe today is for classic deviled eggs AND variations.  I think that once Spring has sprung, most gatherings where food is involved have a plate or two of deviled eggs on the table.  I know this is true for our family; how about yours? And I am sure that all of us have had 'the world's best' deviled eggs…and probably some of the world's worst, too.
In my quest to present to you the BEST, I took a peek at the way that Alton Brown (of the Food Network) does his hard-boiled eggs.  Mr. Brown is a food geek (don't we love that about him?) and a scientist.  So, he is a valued source for me when I want to get down to the basics.  Want to know how Alton Brown prepares his hard-"boiled" eggs?  Check out this video.
Pretty cool, hmmm? (I know…punny! How can steamed eggs be cool?!?) His is a great method, and, by my experience, works perfectly each and every time. These eggs turn out with tender whites and beautifully yellow yolks…with not a bit of a tinge of that green edging that so many hard-boiled eggs have! Now here on the Monday installment of At Home w/ GCH, I try to present recipes to make healthy but-oh-so-yummy! foods. Today's recipe fits within those parameters because we have reduced the amount of mayonnaise and lightened the mixture up with some plain Greek yogurt. The average deviled egg half, prepared traditionally, contains approximately 60-65 calories. Now that is not too bad if you are only putting one half on your plate…but, honestly, who eats just one half? Prepared using the following basic recipe (not the variations), each deviled egg half has approximately 30 calories. (So to me that means I can indulge and eat both halves!)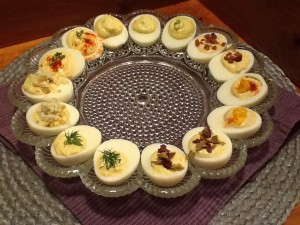 Deviled Eggs (And Variations)
Ingredients:
8 perfectly steamed eggs (see video below)
3 tablespoons mayo (even better: use canola mayo)
3 tablespoons plain Greek yogurt
2 teaspoons Dijon mustard
1-2 teaspoons pickle juice (we like bread&butter pickles)
freshly ground lemon pepper, to taste
smoked paprika
Directions:
With a sharp knife, halve each of the eggs, removing the yolk; set aside.
Using a wire mesh strainer, push the egg yolks through the mesh one at a time. (Or, if you prefer, simply mash the yolks to the consistency you prefer)
Add the mayo, yogurt, and mustard to the yolks and combine. Slowly add the pickle juice 'til very creamy
Add pepper to taste
Dust with smoked paprika
Decision time: either use this healthy but-oh-so-yummy version of the classic egg filling or try any or all of the varieties below!
To fill the egg white halves, you can either simply use a small spoon, or fill a sandwich bag with the mixture <don't forget to squeeze out the air AND seal the bag!>, then snip just the tip off one corner, and swirl the yolk mixture into the indentation of each egg half.
Variations: (shown in the picture above)
To the yolk mixture, you can add any one of the following:
finely chopped avocado and a squeeze of lime juice, OR
a sprinkle of garam masala (or curry powder); top with a small mango chunk,
Or top with:
a bit of fresh dill, or snipped fresh chives
finely chopped apple and walnuts; then top w/ a bit of blue cheese
chopped Greek olives and a bit of feta cheese
finely chopped tomatoes and some crumbled bacon
God loves you!  ♥  (Don't ever forget that!)
♥  coleen