Here we are…getting closer and closer to Spring every day!  Today's recipe continues to celebrate the return of Spring veggies!  In this veggie-licious dish, we have the first of the season (at least here in NY) sweet onions (I like to use the Vidalias).  Along with asparagus, carrots, tiny tomatoes, and sweet bell peppers.  This is a healthy but-oh-so-yummy dish to serve either on a weeknight (comes together rather quickly!) or to serve to guests.
Garlicky Shrimp and Spring Veggies with Red Quinoa
Ingredients:
1/2 cup quinoa
1 cup chicken broth
2 tablespoons extra virgin olive oil
1 small sweet onion (Vidalia), halved and sliced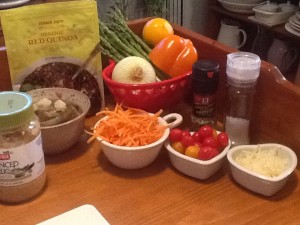 1/2 red (or yellow or orange) Bell pepper, sliced
1/2 cup shredded carrot
1 pound asparagus, woody ends removed
1 cup grape or cherry tomatoes, halved
1/2 pound uncooked shrimp, peeled and deveined
2 tablespoons minced garlic (I use jarred)
1+1/2 tablespoons freshly ground lemon pepper mix
1-2 tablespoons sea salt
1/4 cup dry white wine
1 small lemon, juiced
4 tablespoons freshly grated Parmesan
Directions:
In a small saucepan, stir chicken broth and quinoa. Over medium heat, bring to a boil. Reduce heat to low; cover. Let simmer 'til broth is absorbed about 20 minutes. When done, remove from heat; leave in pan 'til ready to serve.
In a large saute pan, heat olive oil and add sliced onions and peppers. Cook for 5 minutes, stirring occasionally.
In the meantime, cut tips off asparagus; set aside. Cut remainder of asparagus stems into 1″ pieces.
Then add shredded carrots and cut-up asparagus stems (not tips) into saute pan. Continue to cook for 7-8 minutes 'til crisp tender.
Remove to a bowl, season with salt and pepper to taste and set aside.
Place tomatoes in saute pan (adding a small amount of olive oil IF needed), cut side down. Let cook for 3-4 minutes to soften.
Add in shrimp and asparagus tips. Cook for 4-5 minutes 'til shrimp are beginning to turn pink. Flip over to cook on other side. Add chopped garlic and cook for just one more minute, stirring gently. Remove just the shrimp to a bowl. Season with salt and pepper.
Pour white wine and lemon juice into saute pan and simmer for about 3-4 minutes. Stir well. Remove from heat.
Add back in sauteed shrimp and cooked veggies. Sprinkle with 2 tablespoons grated Parm.
Serve on a large platter; pour out the quinoa and top with the shrimp/veggie mixture. Sprinkle with the rest of the Parm. Enjoy!
♥  ♥  ♥  ♥  ♥
God loves you!  ♥  (Don't ever forget that!)
♥  coleen