"It's the most wonderful time of the year
There'll be much mistletoe-ing
And hearts will be glowing when loved ones are near
It's the most wonderful time, it's the most wonderful time
It's the most wonderful time, ♫ ♪ ♫ it's the most wonderful time of the year!"
Oh, don't you know it!  There's all that AND the celebration of God's love come to earth—Jesus' birth!  Oh, yes, and baking and cooking and gift-making! Lots of joy and fun and happiness!
This week I am sharing a homemade Hot Cocoa mix with you. This would be great kept in your own pantry!  However, one of my favorite things to do with it is to package them up in cute little jars with handmade labels and gift them to loved ones. They pack up nicely, too, to be mailed.  If you really want to go over the top, google a recipe for 'Chocolate Dipped Spoons'…easy-peasy!  Also here is a quick link.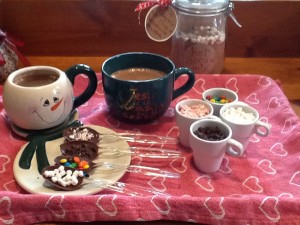 Next week, I will share a recipe for a 'Cream of Just-About-Anything' Soup and Sauce Mix.  What makes me happiest with these mixes is that they are all gluten-free and all fall well within our healthy but oh-so-yummy point of view!  Try them!  Gift them!  Enjoy them!
Hot Cocoa Mix
Ingredients: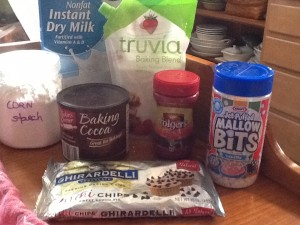 6 tablespoons unsweetened cocoa powder
1/2 cup dehydrated nonfat powdered milk
1 teaspoon cornstarch
1/2 teaspoon salt
3/4 cup baking stevia OR 1+1/2 cup "measures like sugar" sweetener (I used Truvia) * of course you can choose to use plain old sugar
Add-ins:
small peppermint candies
mini chocolate chips
tiny marshmallows
Options:
Mocha: substitute 2 tablespoons of instant coffee crystals for a like amount of cocoa powder
Peppermint: include a small jar of peppermint extract ("add 1-3 drops to each prepared cup")
Directions (for preparing mix):
Mix everything together in a medium mixing bowl until ingredients are well combined. Pour mixture into a closed container, such as a mason jar for a beautiful and festive gift! If you are 'adding' anything, just pour onto the top of the mix and cover.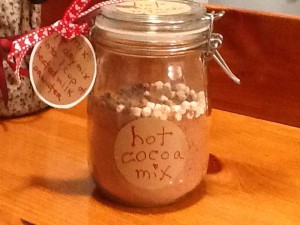 Directions (print on a tag to attach):
To enjoy hot cocoa, mix 1 tablespoon dry mix with your choice of: 1 cup HOT almond milk, OR skim milk, OR water. Stir until hot cocoa mix is completely dissolved and well combined.  Add additional sweetener (if necessary).
 ♥  ♥  ♥  ♥  ♥
God loves you!  ♥  (Don't ever forget that!)
♥  coleen