Home Management Binder …also known as a Household Binder.  The first question you may have is, "What Is It?"
This is where I keep things that are important to me; things that help me manage my home more effeciently. My Command Center, so to speak. In this binder, I keep things such as:
Schedule
Meal Planner
Recipes
Cleaning Schedule
Kid's Stuff
Contacts
Blog Schedule

To-Do

/ Projects


For this project, you will need the following items:
3-ring Notebook – 3-inch
Sheet Protectors
8 Divider Sheets
8 Index Dividers
Directions:
You will begin by inserting your dividers into your notebook, and attaching the index labels. You will label each of your index tabs with the categories listed above.
Then you will begin adding in your inserts. I've listed several below, with links to take you to the free downloads, in some cases.
The first thing you will see when you open my binder is the Homemakers Creed, and a lot of other marriage or family-oriented inserts found on Darlene Schacht's website (Time Warp Wife). Click on the link above to be taken to this awesome FREE printable!! You will find a lot of the inserts in my binder are from Darlene's website.  Just click here: www.time-warp-wife.blogspot.com and click on the Freebies tab.
The freebies I have downloaded from Darlene's site, and have added into my binder are:
Homemakers Creed
The Proverbs 31 Woman
The Ultimate Marriage Vow
Marriage Manifesto
Mommy Manifesto
SCHEDULE
The next thing you will see is the first section of my binder: Daily Planning Goals and Calendars. I find my calendar printable, again from Darlene's website. Click on the link above to download your free calendar printable. This particular calendar from her site is awesome! Each monthly calendar includes the calendar, a To-Do list, Hope-To-Do List, Prayer Requests, Reminders, Thinking Ahead, Bible Reading, Groceries, People to Call. I love these calendars!!! You will also find my Birthday calendar. This calendar lists the birthdays of all family members.
MENUS
In this section of my binder, you will find:
Grocery List
Meal Planner
Coupon Pocket
Freezer Inventory
Pantry Inventory
Freezer Storage Cheat Sheet
Produce Buying Guide
Internal Cooking Temperature Cheat Sheet
RECIPES
This is where I store printed recipes that I love!
HOME CLEANING ROUTINE
In this section of my binder, you will find:
60 Uses for Baking Soda
Daily Housekeeping Schedule (time warp wife)
Weekly Chores for Life (time warp wife)
My Zone Cleaning Schedule from FlyLady.com
If you haven't tried FlyLady.com yet, give it a try! Each week, you are given a zone in your home to clean. She gives you a complete list of what to accomplish in each of those zones. Pretty cool stuff!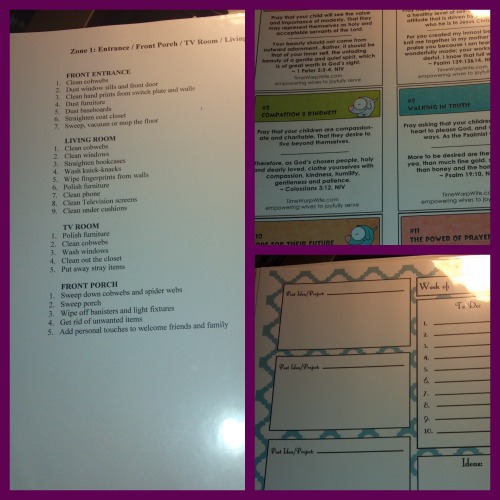 KIDS
In this section of my binder, you will find:
Quick References for Kids
House Rules
Chores Chart for my kids
School District Directory
School Lunch Menu for each month
School Calendar – I tore this calendar apart so I could put each month in a sheet protector. Since it is the calendar for our school district, I went through each month and highlighted our school's events for the whole year, including PTO meetings, holidays, spring break, early dismissal, and so on.
Classroom Handbook from our daughter's teacher
Birthday List of each student in class
I have also included things for my own personal use that will help me pray for and encourage kids that come through our home through the Safe Families For Children organization, as well as my own kids and grandkids!
31 Ways to Inspire Your Children
31 Ways to Pray for Your Children
31 Prayer Card for Your Children (time warp wife)
CONTACT LIST
In this section of my binder, you will find:
Contact List from my husband's work
Medical Staff & Provider Directory for our community
Ultimate Contact Sheet that lists the numbers for grandparents, doctor, dentist, hospital, pharmacy, school, coaches/teachers, vet, housekeeper, insurance agent, miscellaneous. I downloaded this document from SimpleOrganizedLiving.com
BLOG
In this section of my binder, you will find information for my personal blog:
Monthly Blog Schedule
Weekly Blog Schedule – breaks my month down into Ideas/Projects, To-Do's, Weekly Statistics, Bloggers to Encourage. It's always a good idea to find bloggers to encourage. Blogging can be a pretty lonely job sometimes!! 🙂
Website Log-ins sheet
HTML Codes Cheat Sheet
TO DO / PROJECTS
In this section, you will find nothing but notebook paper. I use this section for things like vacation to-do's, home projects, holiday/birthday shopping ideas, and more.
*****
I hope you have enjoyed a sneak peek into my Home Management Binder, and a little bit into my own personal life! I think having a good system like this is important, as it can help us stay organized and focused on the things that need to be done. I always feel good at the end of the day when I can look back at my list and see the items that have been checked off! I can go to sleep feeling quite an accomplishment has been achieved! A very good feeling!
Blessings,
Christi
________________________
If you would like more housekeeping, home organization tips, recipes, and more from Christi's personal blog, visit her at: