In the summer of 2011, the Lord spoke to my heart about a world-wide ministry, and how I would be involved in that.  I had no idea the who's, what's, or how's…but by May 5, 2012, Girlfriends Coffee Hour was birthed.  It has been an amazing journey since then.  I would never in a million years have dreamed that God would bless this ministry as much as He has!  I am honored to have been a part of it.
As many of you know, as of October 31st, 2013, I will be stepping down as the leader of Girlfriends Coffee Hour.  This has not been an easy decision to make, but one that I have no doubt in my mind that God is calling me to do.  I never thought I would have as much peace about leaving GCH as I do, but I also know that when God is in the middle of decision making, what He has called you to do will bring nothing but peace!
In the beginning of this year, my husband, Gary, and I got involved in a program called Safe Families for Children.  This program offers temporary shelter for families who are in need or going through a crisis in their lives.  The families are placed in Safe Families homes for a short period of time in order to allow the parents to do what needs to be done on their end.  Gary and I were introduced to our first two little boys in February of this year.  Those two little ones were a JOY to have around!  They only needed to be with us for 3 weeks, but during those 3 weeks, we fell in love…not only with the boys, but with the Safe Families program as well.
Within a short time, I accepted the role as County Coordinator for the county that I live in through Safe Families.  My duties include networking with local churches, and other resources in our county, as well as bringing Jefferson County together with families in need.  The work I do in our county promotes the Safe Families for Children program, and helps to find more homes within our county for these little ones to be placed, so they have a safe home and a warm bed, while mom and/or dad are working out the details on their end to get the kids back as soon as possible.  This program is not associated with any kind of child welfare and no courts are involved.  The beauty of it all is that it brings Biblical hospitality back to the churches, where it belongs!  I LOVE THAT!
I am so blessed to not only be able to bring children into my own home, but it's such a blessing to see more churches get involved with programs like Safe Families for Children!
A few short months ago, we brought a third child into our home.  What a doll!  She is simply adorable, and we have fallen so much in love with her!  She has the most beautiful spirit, and the most amazing curly hair!  It's beautiful!  Her smile lights up any room that she walks into, and her giggle…oh. my. word!!  It just blesses my socks off each time I hear it!!  (Needless to say, I try to find all kinds of ways to make her giggle!!)  LOL
Just a few short weeks ago, I was asked to come on board with Safe Families as a Family Coach.  In this position, I will work with other SFFC homes who have had children placed with them.  I am so excited about this position!  Being a caseworker for Safe Families has been one of my secret desires, and the Lord answered the call for me!
So, as you can see, I have a very good reason for needing to step down from Girlfriends Coffee Hour.  In stepping down, I needed to find a replacement, and that didn't take long at all.  God already had this all worked out for me!  I prayed.  He answered.  I asked.  She agreed.  And today I am happy to tell you that our Prayer Ministry Leader, Coleen Hayden, who has also worked very closely with me for many months now, has graciously accepted the offer to become the new Owner/Leader of Girlfriends Coffee Hour.
As you can see from Coleen's blogs each week, she certainly has a heart for the Lord, and her love for GCH is just as strong as mine has been.  So to me, it was a given who my replacement should  be.  I'm so blessed in knowing that someone who loves GCH just as much as I do will be taking my place!  I know without a doubt that Coleen will do an amazing job in this position!!  I can't thank her enough for her dedication and loyalty to this ministry!!  I love you, Coleen, and your heart for God!!!  You are one amazing woman of God, and I am blessed beyond blessed to call you not only FRIEND, but my sister-in-Christ, as well.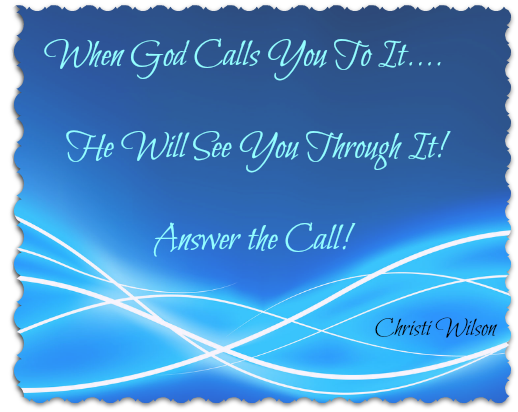 With that, I will close by saying this:  Never ever doubt that God can use YOU!  If He calls you to it, He truly will see you through it!  He will equip you in every way possible.  He will lead you, and guide you, and be there for you…. Every step of the way!!  If He can do this with a simple housewife from Southeast Wisconsin, He can do it with YOU, too!!
Thank you all so very much for allowing me the opportunity to come into your homes each week to share the Word of God with you!  I pray that God will continue to bless you through this ministry.  I ask you to pray for this ministry, and for Coleen, and the Leadership Team, as they all transition through this.  You mean the world to me…but YOU mean even MORE to Him!!
As Coleen always says each week … God loves you…and I do, too!
Farewell my Friends…. 
Christi Wilson