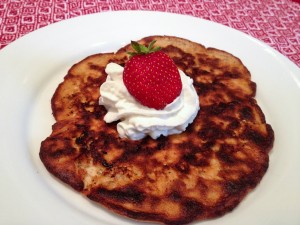 Oh, pancakes!   We all love them.  But sometimes you just don't want to make them, even when the kids are whining for them.  They take time to mix up (unless you're using a pre-made mix like Bisquick…in which case, check out that long list of chemicals and preservatives!), and they're pretty high in carbs.  Ready for a game changer?  Try these Tahini Pancakes!
This recipe is just three ingredients long.  WHAT?!?!  All you need is a very ripe banana, an egg, and a tablespoon of tahini.  You could use another kind of nut butter, but we use tahini to avoid allergies in my house.  Tahini is an amazing thing.  I keep a can of it in my fridge at all times, because it is crucial to homemade hummus, baba ghanoush, and this kale salad.  It's just sesame seed butter, but it's lovely.  These pancakes have no gluten and no nuts, plus they're high in protein.  Win! Win!
Dress these up however you like.  Add in chocolate chips, coconut flakes, or raisins.  They don't rise like regular pancakes, but they're certainly more substantial than a crepe.  Try them for breakfast tomorrow and you—and your pancake-loving kids—will thank me!
Tahini Pancakes
(makes two six-inch pancakes.  Go ahead and double or triple the recipe if you like.)
Ingredients:
1 large egg
1 overripe banana
1 heaping tablespoon tahini
coconut oil or butter for the pan
Directions:
Heat a small skillet over medium heat.  Add a teaspoon or so of coconut oil or butter.  Make sure the pan is really well lubricated.  These pancakes can fall apart if they stick.
In a bowl, beat the egg.  Mix in the banana and mash and mix well.  Beat in the tahini.
Pour half the pancake batter into the frying pan and reduce the heat to medium low.  Let cook for a few minutes until, like a normal pancake, it gets dry with burst air bubbles on top.  Very carefully, flip the pancake over and turn the heat all the way to low, or even turn it off.  Let cook a minute or two, then slide off the pan and onto a plate.  Smother with whipped cream and berries, or maple syrup, sliced bananas and walnuts.
Explore, experiment, enjoy! — Dana
---
To view even more of Dana's unique recipe, you can visit her at Frugal Girlmet!