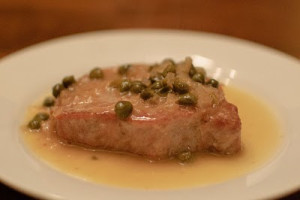 Where others have a sweet tooth, I have a sour tooth. I've been known to use only vinegar, and skip the oil, when dressing my salad. I eat cornichons like other people eat bon-bons. So when I saw this recipe for Oven-Roasted Pork Chops with Lemon-Caper Sauce, I knew I was going to like it.
Using a recipe from my Complete America's Test Kitchen TV Show Cookbook (which I highly recommend!), I made a few changes to work with what I had.  If you don't have a shallot, feel free to use a red onion – just mince as finely as possible.  These pork chops are easy, quick, and nearly fool-proof.  They were tart and tangy (but not pucker…so if you are not a sour-lover like me, you won't be put off.)
Oven-Roasted Pork Chops with Lemon-Caper Sauce
Ingredients:
4 pork chops, about 1 1/2 inches thick, trimmed of excess fat
2 tablespoons oil or bacon fat for cooking
1 medium shallot, minced
1 cup chicken broth
1/4 cup lemon juice (about 2 lemons)
2 tablespoons capers, drained
3 tablespoons butter
Directions:
Preheat oven to 450*F. Heat the oil in a large skillet over high heat, and brown the pork chops on one side, for about 2 minutes. Flip and brown the other side, another 2 minutes.
Transfer the chops to a foil-lined baking sheet or large, wide baking dish (so they aren't crowded or touching each other.) Roast in the oven until the internal temperature reaches 140*F on a thermometer, about 15 minutes, turning them over halfway through cooking time.  Remove from the oven, place on a platter, and cover with aluminum foil.  Let the chops rest for about 5 minutes, and check to make sure the internal temperature has reached 150*F.
While the chops are in the oven, add the shallot to the skillet you cooked the pork chops in, and cook over medium heat until softened, about 30 seconds (about 2 minutes if you are using a red onion.)
Increase the heat and add the broth, stirring to scrape up any bits stuck to the pan.  Add the lemon juice and the capers and cook until the sauce reduces to about 1/3 cup, about 4 minutes.
Off the heat, whisk the butter into the sauce, and pour over the pork chops.
Explore, experiment, enjoy! — Dana
---
To view even more of Dana's unique recipe, you can visit her at Frugal Girlmet!