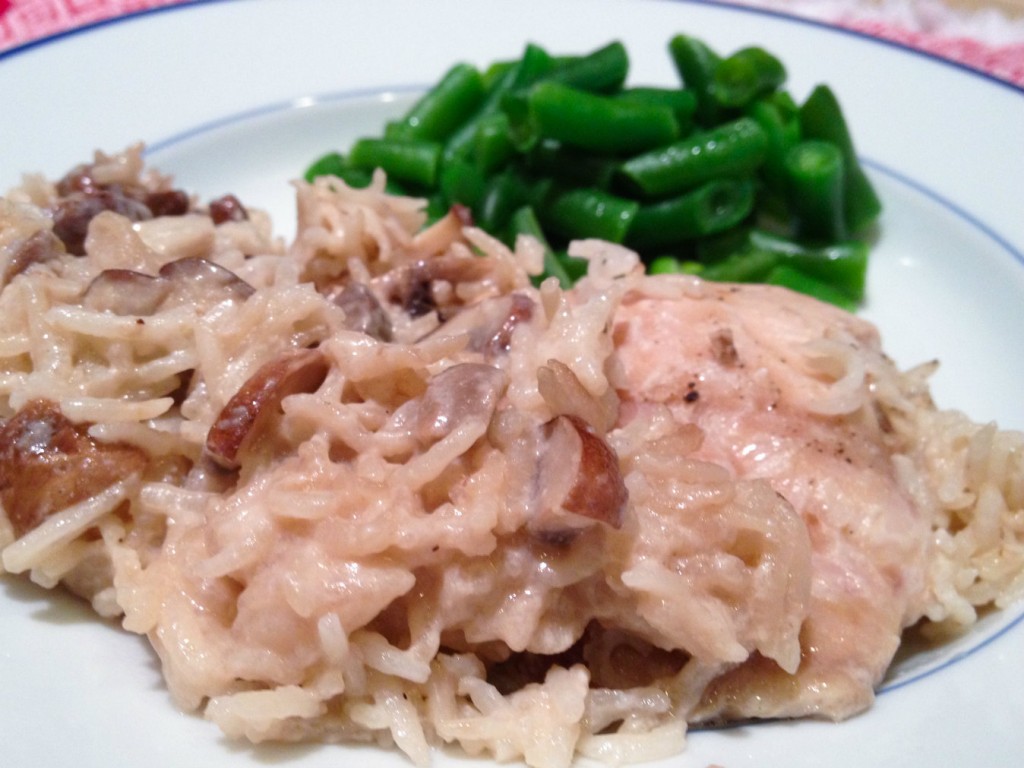 This is a recipe I learned when I was in 7th grade Home Economics. (Do they still offer that in schools?)  I liked it so much, I brought the recipe home and asked my Mom if I could make dinner for the family for the first time.  I did – and it was a success!  How's that for boosting your kitchen self-confidence?  Your kids can make this too:  Chicken and Rice!
There are any number of variations you do make:  add onions or garlic to the rice.  Sauté the mushrooms in wine and herbs before you add them to the casserole.  Marinate the chicken in Italian dressing first.  Parboil brown rice and use that instead of white rice.  The sky is the limit, or you can keep it simple.  I made it like this last night and my whole family loved it.  Yours will too!
Chicken and Rice
Ingredients:
1 can cream of mushroom soup
1 can of milk (see below)
1 cup white rice
8 ounces fresh mushrooms, chopped
6 boneless, skinless chicken thighs
salt and pepper
Directions:
Preheat the oven to 375*F.  In a large casserole or baking dish, spray some cooking spray on the bottom and sides.  Evenly place the six chicken thighs in the dish.  Season with salt and pepper.
In a large bowl, empty the can of cream of mushroom soup.  Fill that empty can with milk and mix with the soup.  Add in the rice.  Chop the mushrooms and add to the soup mixture.  Add salt and pepper, stir, and pour over the chicken.  You want the rice mixture to be evenly distributed in the dish.  Depending on the size of your dish, that may mean it nearly covers the chicken, or not even halfway.  Just spread it out so it lies pretty flat.
Cover the dish with foil and bake for an hour.  Check for doneness – you want the thighs to be 175*F.  Serve hot!
Explore, experiment, enjoy! — Dana
---
To view even more of Dana's unique recipe, you can visit her at Frugal Girlmet!