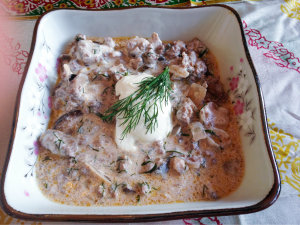 This recipe is one of my favorites in the "Comfort Food" category.  Beef Stroganoff is easy and filling, especially if you serve it over rice or noodles.  We just eat it straight from the bowl, paired with a salad or roasted vegetables.
Now before you think I'm crazy for using so much wine in a stew, remember that all the alcohol cooks off. You will not get tipsy from your entree, I promise!  Make sure you use a wine that you will want to drink, because this recipe leaves you enough for a glass or two with dinner.  You can use red – like cabernet sauvignon, merlot, or pinot noir – or white – like pinot grigio or chardonnay.  Don't use anything sweet, though.  Nice and dry is the secret.  And if you are really, really opposed to wine…you can use beef broth instead.
This recipe also calls for dried mushrooms.  I get big bags of dried, sliced shiitake mushrooms at the Korean supermarket.  Any Asian grocery store should carry dried mushrooms for cheap.  If you can't find them, you can use fresh button or cremini mushrooms.  The difference will be the cooking time – you'll need to sauté them for longer so that you can cook most of the water out of them.  Just experiment until it looks right – it's not rocket science.
Ready for a fall stew that will warm your belly and delight your tastebuds?  Let's go!
Beef Stroganoff
Ingredients:
1 1/2 to 2 pounds ground beef
1 large onion, sliced
1 cup dried, sliced mushrooms (or use one pound fresh mushrooms, sliced)
2 cups dry red or white wine
1 tablespoon fresh snipped dill (or use 1/2 teaspoon dried dill)
1/4 teaspoon smoked paprika (optional, but nice)
1 teaspoon Dijon mustard
1 cup whole milk yogurt (or use sour cream or creme fraiche)
Directions:
If using dried mushrooms:  In a bowl, pour in one cup of the wine.  Microwave for about a minute so it's hot, or at least very warm.  Add the dried mushrooms to the hot wine to rehydrate them.  Place another bowl on top so the mushrooms stay submerged in the wine.  Let steep until Step 3.
In a large pot, brown the ground beef.  You don't need to add any extra fat, since the fat will melt out of the meat.  When brown, remove beef with a slotted spoon to a bowl.  Leave the fat and juices in the pot.
Add the sliced onion to the pot and sauté over medium.  If using fresh mushrooms, add them together with the onion.  If using dried mushrooms, add the mushrooms AND the wine they were soaking in when the onion starts to turn golden, about 8 minutes.
When the mushrooms and onion are soft and golden, add the beef back to the pot, along with the other cup of wine, the dill, paprika, and mustard.  Cover with a lid and turn the heat to low.  Simmer for 5 minutes to combine.
Turn off the heat, stir in the yogurt, and serve hot.
Explore, experiment, enjoy! — Dana
---
To view even more of Dana's unique recipe, you can visit her at Frugal Girlmet!