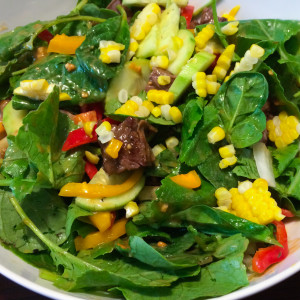 There were lots of adjectives to sift through in trying to create a name for this recipe!  'Salad' had to be in there, of course…and 'Thai,' too, because of the peanut dressing.  But feel free to use chicken instead of steak, and you can switch out the veggies used to suit your tastes.  This Summer Thai Steak Salad is really flexible!  Ready?  Let's go!
Summer Thai Steak Salad
(recipe makes two salads)
Ingredients:
1 heaping tablespoon peanut butter
1 tablespoon rice vinegar (or use a little less apple cider vinegar)
1 teaspoon sugar, honey, or maple syrup
1/2 teaspoon soy sauce
2 tablespoons sesame oil (use grapeseed or olive oil, if you have to)
a few handfuls of salad greens
1/2 pound cooked steak or chicken, diced
1 large or 2 small bell peppers, thinly sliced
1/4 sweet or red onion, thinly sliced
1 cucumber, peeled and sliced into half-moons
1/2 cup cooked corn kernels
other options:  tomatoes, avocado, basil, cilantro, carrots
Directions:
In a food processor, blend together the peanut butter, vinegar, sugar, soy sauce, and sesame oil.  Taste for seasoning – add more sugar, or more vinegar, or whatever you want.  You can even give it a hit of Sriracha if you like!  Set aside.
Wash greens and divide between two really big salad bowls.  Top with diced steak and thinly sliced veggies.
Toss with lots of peanut dressing.
Do a little happy dance in your chair!
Explore, experiment, enjoy! — Dana
---
To view even more of Dana's unique recipe, you can visit her at Frugal Girlmet