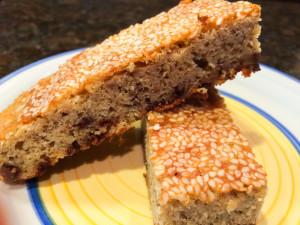 I found this recipe on a website called PaleOMG.  I love their photos on Instagram, and they have great ideas for healthy snacks and things to give your kids.  I changed the recipe a bit, just subbing a few things here and there, and now I present to you:  Protein Banana Bread Breakfast Bars!
That's a mouthful.  These PBBBBs are just like banana bread, but not cloyingly sweet.  They are made with almond flour and whey protein powder, so you're getting a good dose of protein in your sweet treat.  These were easy and delicious!  I'm storing mine in the fridge, and hope there is enough left for me to enjoy one with my morning coffee tomorrow!
Protein Banana Bread Breakfast Bars
Ingredients:
2 bananas, mashed
1/4 cup melted coconut oil
1/4 cup maple syrup
1 teaspoon vanilla extract
1 egg, beaten
2/3 cup almond flour
1/3 cup whey protein (vanilla, but I used cinnamon!)
1/4 cup tapioca or arrowroot flour
1/2 teaspoon baking soda
1/4 teaspoon salt
1/3 cup cacao nibs (I used mini chocolate chips)
1/4 cup sliced almonds (I used sesame seeds)
Directions:
Preheat oven to 350*F.  Grease an 8×8 square pan.
Mix all the ingredients together, except for chocolate chips and almonds.  Then fold in cacao nibs or chocolate chips.  Pour into the prepared pan, and cover the top with the almonds or sesame seeds.
Bake for 20-25 minutes until the middle is set.  Cool for 10 minutes before cutting.
I cut mine into 1″x4″ bars, so I had 16 servings.  Store in the fridge, covered.
Explore, experiment, enjoy! — Dana
---
To view even more of Dana's unique recipes, you can visit her at Frugal Girlmet!