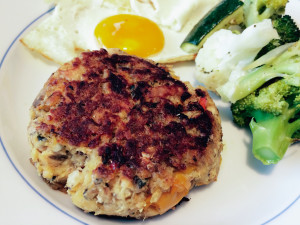 Not as fancy as crab cakes, but higher up the gourmet rankings than a tuna melt, these Salmon Cakes make a quick, protein-filled lunch that can be dressed up or down, depending on your mood.
Dressing up?  Stack them with a poached egg and hollandaise sauce, along with a side of steamed or grilled asparagus.  Going casual?  Serve the salmon cakes in a salad with a vinaigrette and some goat cheese, or with a fried egg and a side of roasted vegetables.  These would go great with tartar sauce or remoulade.  Any way you plate these up, you'll love these savory salmon cakes!
Salmon Cakes
Ingredients:
1 (14.75 ounce) can of boneless salmon
2 teaspoons mayonnaise
1 teaspoon mustard
1/2 teaspoon celery salt
1/2 teaspoon dried dill
1/2 cup chopped roasted bell peppers and onions (or 1/2 cup diced bell pepper and 1/2 cup diced onion, cooked in olive oil until soft)
10 large crackers (use saltines, Ritz, or whatever plain cracker you have around)
1 tablespoon butter
2 tablespoons olive oil
Directions:
Combine the salmon, mayo, mustard, celery salt, dill, peppers, and onions in a large bowl.  Crumble the crackers into crumbs and mix into  the salmon.
Using a bowl or a cup (I used a half-cup measuring cup), pack the salmon mixture into 4 ounce portions.  Remove the salmon cakes from the cup and place them all on a plate.  Refrigerate for 30 minutes.
In a large frying pan, heat the butter and oil together.  Cook the salmon cakes for about 8-10 minutes on one side over medium heat, until they have a nice golden crust.  Flip them carefully, and cook again for about 8 minutes.  Remove and serve warm.
Explore, experiment, enjoy! — Dana
---
To view even more of Dana's unique recipe, you can visit her at Frugal Girlmet