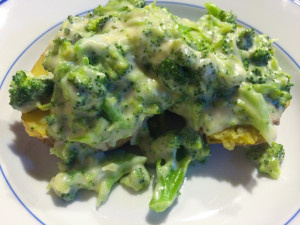 There are many reasons you'd want to have a stash of "table for one" recipes:  You could be a stay-at-home mom (or work-from-home mom, like me) and you don't want hot dogs or buttered noodles or whatever it is your toddler will deign to consume this week; it could be you live alone and don't need to make a recipe that serves 6; or it could be a case where the other people around you want something else, and you need a dish you can whip up quickly just for you.   Whatever the case, this Baked Potato with Broccoli and Cheese feeds one person perfectly!
I cooked both the potato and the broccoli in the microwave.  You could use leftover baked potatoes; you could also use frozen broccoli instead of fresh.  The important thing is the cheese sauce!  No Velveeta here – just regular ingredients you have around your house come together in 4 minutes for a creamy, healthy sauce.  I had a little Boursin cheese leftover – about an ounce – or you could use goat cheese or even cream cheese if you don't have Boursin.  If you have none of those and are just using grated cheese, add about a quarter cup more cheese, plus a hefty shake of garlic salt or garlic powder.
Lunch for One:  Baked Potato with Broccoli and Cheese
Ingredients:
1 potato (any kind – I like Yukon Gold)
1 small head of broccoli (or use about 8 ounces frozen broccoli)
2 tablespoon butter
1 tablespoon flour
1/2 cup milk
1/2 cup shredded cheese
1 ounce Boursin or goat cheese (or use cream cheese, plus garlic powder, salt and pepper)
Directions:
Chop the broccoli into smallish pieces, and microwave until steamed.  Not too crisp, but definitely not mushy.  Set aside.
Microwave the potato.  I poked holes in the potato with a fork, wrapped it in a wet dishcloth, and microwaved until soft and pliable.  Set aside.
In a pan, melt the butter and add the flour over medium-low heat.  Stir together (this is a roux) for about 2 minutes.
Add the milk and stir until it blends into the sauce and starts to thicken.  Add the cheeses (and spices if using) and stir until hot and melted.
Stir the broccoli into the cheese sauce.  Split the potato in half and smother with broccoli and cheese.
Explore, experiment, enjoy! — Dana
---
To view even more of Dana's unique recipe, you can visit her at Frugal Girlmet!