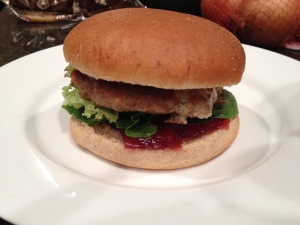 If you're anything like me, Thanksgiving is one of your favorite times of the year.  The best food, the best company (family, friends, fortuitous strangers), and the best traditions.  If you can't wait for that one day a year, make this Thanksgiving Burger!
The secret ingredient is a box of bread stuffing mixed in with the turkey.  It adds moisture and the unmistakeable seasonings that really make this burger special.  Your toppings can vary—add gravy, sweet potatoes, whatever you like!  I made mine easy, with a quick smear of mayo, cranberry sauce, and lettuce.
Ready to taste the season before the day gets here?  Let's give thanks!
Thanksgiving Burger
Ingredients:
1 box bread stuffing mix (I used Stove Top)
20 ounces ground turkey
1/8 teaspoon granulated garlic
1/4 teaspoon celery salt
1 can cranberry sauce
for each serving:  1 hamburger bun, mayonnaise, a few leaves of lettuce
Directions:
Prepare the stuffing mix according to the directions on the box.  Let cool a little.
Combine 1 cup of prepared stuffing with the turkey.  (Refrigerate the rest of the stuffing and eat it later, or use it on top of casseroles!)  Form four 5-ounce burgers, and refrigerate for at least an hour so they firm up a little.
Fry the burgers in a non-stick pan.  Use a little oil of your choice, and cover the pan with aluminum foil.  Cook on medium heat for about 6-8 minutes, until done on one side with a little crust.  Flip, cover, and cook again.
To serve:  give a light coating of mayo to both top and bottom hamburger buns.  Add a couple teaspoons of cranberry sauce to the bottom bun, then the lettuce.  Top with the burger and the top bun.  Serve hot!
Explore, experiment, enjoy! — Dana
---
To view even more of Dana's unique recipe, you can visit her at Frugal Girlmet!