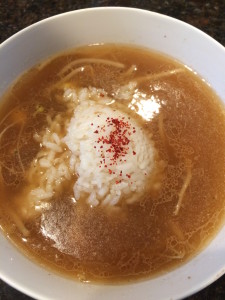 One of the best parts of winter is enjoying all the warming soups, stews, and other comfort foods.  This Korean Beansprout Soup (Kong Namul Guk) is just what the doctor ordered if you'r sick, or just what your tummy ordered if you're not!
Some recipes call for an anchovy and seaweed broth, but I prefer this soup with a beef broth.  You can either use canned or homemade beef broth, or my favorite – bone broth.  Serve this soup with a scoop of cooked rice for a traditional Korean breakfast, or any time you need to warm up.
Korean Beansprout Soup (Kong Namul Guk)
Ingredients:
1 teaspoon sesame oil
4 ounces beef, sliced fine into small pieces (or you can chop up a leftover hamburger – not traditional, but it's delicious!)
2 cloves garlic, minced
4 cups beef broth, bone broth, or other broth of your choice
8 ounces beansprouts
1 teaspoon soy sauce
cooked rice, green onions, sesame seeds, dried chili pepper flakes to serve
Directions:
In a large pot with a lid, heat the sesame oil and add the meat, stirring to cook through.  (If you are using leftover cooked beef, just sauté quickly.)  Add the minced garlic and stir for a minute or two – don't let it burn!
Add the broth.  Bring it to a simmer.
Wash and sort through the bean sprouts – get rid of any that are discolored or mushy.   Add to the broth and cook, covered, for about ten minutes.
Add soy sauce and taste for salt.  Serve with rice, green onions, sesame seeds, and chili pepper flakes, if desired.
Explore, experiment, enjoy! — Dana
---
To view even more of Dana's unique recipe, you can visit her at Frugal Girlmet!