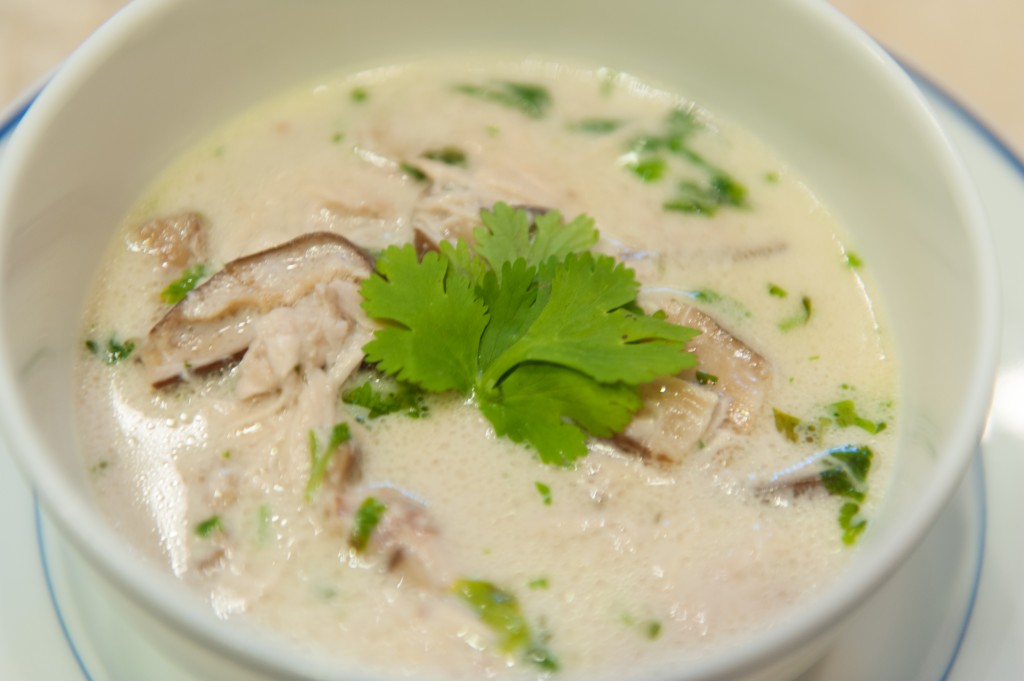 I am convinced that every culture, every civilization, has a chicken soup recipe.  Nothing else satisfies, or feels so much like a hug to the tummy, like a big bowl of chicken soup made by someone you love.  If you are like me and are a frugal girl, you buy a whole chicken at least once a week.  I remove the breasts and legs and cook them one night, then cook the carcass for broth and about two cups of shredded chicken left on the body.  If you have a chicken body and the desire to try something new, read on – here comes Thai Coconut Chicken Soup, also known as Tom Kha Gai!
Now that you know how to make coconut milk from scratch, you'll need about 2 cups of homemade coconut milk, or you can use one can of packaged coconut milk.  There are a few other unusual ingredients for this recipe:  ginger, cilantro, and fish sauce.  Ginger really isn't that out of the ordinary, and goes great in smoothies and peach dishes; but if you aren't going to use it soon, you can peel whatever is left and freeze it to use later.  Cilantro shows up in many different cuisines, so if you don't want to waste half a bunch of cilantro, you have many options (like Mexican or Indian food), or try this  and  this.  Fish sauce is a savory liquid distillation of anchovies, sugar, and salt.  If you can't find it, you can still make the soup, but fish sauce is the secret ingredient that really brings everything together.  It keeps in the fridge forever, and is a great flavor booster for clam chowder or a substitute for anchovy paste (think Caesar salad.)  The only other ingredients you need are a chicken, some limes, and mushrooms.  Thai restaurants use straw mushrooms (you can find them in a can), but I used dried shiitake mushrooms, and they're delicious.  You could also use cremini mushrooms.
Try this with Jasmine rice and a green salad for a light but satisfying dinner!
Thai Coconut Chicken Soup (Tom Kha Gai)
Ingredients:
1 chicken body, breasts and legs removed (or use two cooked chicken breasts, diced, plus 3 cups of chicken broth)
1 large piece of ginger, 2 or 3 inches long, peeled and bashed with the handle of your knife
1 can coconut milk, or about 2 cups homemade coconut milk
1 ounce dried mushrooms, broken into little pieces, or 8 ounces fresh mushrooms, chopped
1/2 bunch fresh cilantro, chopped
1/2 teaspoon or so fish sauce (to taste – if you don't have fish sauce, use salt)
2 limes, juiced
Directions:
In a large pot, cook the chicken carcass with 4 cups of water and the ginger, until the chicken is cooked through. Remove chicken to a large bowl; shred meat from bones and set aside. Strain the broth into another bowl, discarding ginger. Wash the pot and return to stove. Over medium low heat, add the dried mushrooms to the chicken broth and cook ten minutes. (If using fresh mushrooms, add them in Step 2.)
Add back the chicken to the broth, and pour in coconut milk (and fresh mushrooms, if using).  Cook until simmering.  Add chopped cilantro, fish sauce, and lime juice, and stir to combine.  Taste for seasoning – may need more salt, or you may like more lime (you can add the zest of the lime too, if you want a stronger citrus flavor.)  Serve hot with more chopped cilantro.  You can also stir in a little hot sauce or chili flakes if you like!

Explore, experiment, enjoy! — Dana

---

To view even more of Dana's unique recipe, you can visit her at Frugal Girlmet!