Like many of you, I am sure, we have refocused our healthy eating lifestyle. Preparing and eating LOTS of soup in January was so helpful! One good habit we are working on is having half the plate (or more!) full of veggies. Often that works out just fine. And a side salad is always a good and simple answer. But I find myself desiring some 'comfort food' especially during these cold and snowy months. And most of the dishes that I consider 'comfort food' don't easily fall into the 'healthy but oh-so-yummy' parameters. However, the other night a recipe came together that fit the bill perfectly!
Sweet Potato and Spinach Mash…oh, yeah!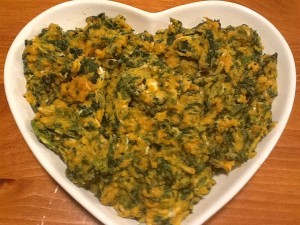 I think that this is a 'non'-recipe…you know…a basic idea where you can tweak it using what you have on hand. Like this: the frozen spinach could be switched out for finely sliced fresh spinach or some baby arugula or kale. You could use ricotta or greek yogurt or even cream cheese for the goat cheese. Try some different spices…cinnamon or nutmeg would be good; even your favorite curry spice blend. And I used some leftover baked sweet potatoes…that made it super quick and simple! If you try this recipe, I would love to hear of your variations!  Enjoy!
ingredients:
12 ounce bag frozen chopped spinach
1/2 cup chicken broth
1 teaspoon minced garlic (I use jarred)
1-2 teaspoons dried herbs (thyme or marjoram or tarragon)
6 small baked sweet potatoes, skins removed
additional 1/2 cup broth or milk (use if mixture is too dry)
sea salt, freshly ground pepper (I use lemon-pepper blend)
3-4 ounces goat cheese, crumbled
directions:
place the spinach and broth in a medium-sized saute pan with a lid; cover and bring to a boil, then reduce heat and simmer for 5 minutes
stir in the minced garlic, s&p, and herbs
add the sweet potatoes and mash the whole mixture together
cover again and simmer gently 'til heated through
taste for seasoning, and add in the goat cheese
remove from heat and serve
♥  ♥  ♥  ♥  ♥
God loves you!  ♥  (Don't ever forget that!)
♥  coleen