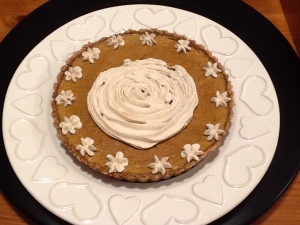 I think that the Thanksgiving meal is one where the most traditional fare is prepared, served, and enjoyed.  Whether they are the ubiquitous offerings…turkey (goes with saying, right?), gravy, cranberry sauce; or favorites that are traditional for your own family…there are just some dishes we expect to prepare and share.  One of these is Pumpkin Pie!
Ok, asking for a show of hands, please…how many of you are baking pumpkin pie(s) to serve to your loved ones at your Thanksgiving dinner?  Me, too!  Actually, have already made this one.  The recipe included below features a Gluten-Free crust (made with almond and hazelnut flours) filled with a very traditional Pumpkin Custard and served with Spiced Whipped Cream to top it all off.  If you are looking for something traditional but with an updated twist, this might just fit the bill!
Here's a tip (oh, punny!) for decoratively adding the whipped cream topping:  place a large-sized cake decorating tip (I used a #2D) into a small zip-top disposable bag…snip off JUST a bit from one corner.  Push the tip firmly into the snipped corner and add a good amount of the Spiced Whipped Cream into the bag; zip closed being SURE the baggie is sealed.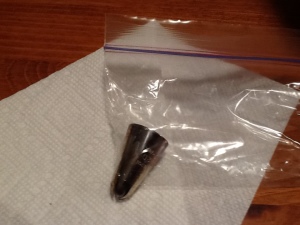 Carefully manipulate the whipped cream down towards the corner holding the tip…making sure the tip remains lodged in the opening.  Gently squeeze allowing the whipped cream to come out through the tip.  Decorate to your heart's content!  Make designs…write 'Thank You, God, for all Your blessings!' on the pie top.  Have fun!
Pumpkin Pie in a GF Nut Crust
with Spiced Whipped Cream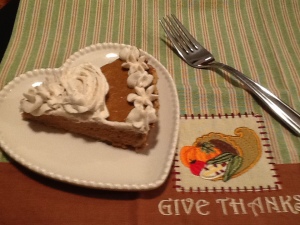 Nut Crust
ingredients:
1+1/2 cups almond flour
1/2 cup hazelnut flour
1/4 teaspoon salt
1/8 teaspoon almond extract
1 egg
1+1/2 tablespoons ice cold butter
directions:
cut butter into small cubes; place in fridge 'til ready to use
preheat oven to 350
place ingredients in food processor (in order listed)
immediately pulse ingredients 'til they come together into a ball
dump gathered ingredients into a 9″ tart pan
press out from the center evenly spreading across the bottom of pan and up the sides
bake for 15 minutes 'til just beginning to lightly brown around the edges (don't be alarmed if center puffs up; just lightly tap pan onto counter…crust will settle)
allow to cool completely before adding pumpkin custard filling
Pumpkin Custard
ingredients:
1+3/4 cups pumpkin puree (15 oz. can)
1/2 cup almond milk
1/2 cup half and half
2 large eggs, room temperature
1 teaspoon almond extract
1 teaspoon ground cinnamon
1/2 teaspoon ground nutmeg (freshly ground if possible)
1/2 teaspoon ground allspice
1/4 teaspoon salt
1/4 teaspoon liquid stevia (I used vanilla stevia)*
directions:
Increase oven temp to 375
in a large bowl, whisk eggs and salt
add in liquids and pumpkin puree, continuing to whisk
add spices and sweetener whisking 'til spices are fully blended in
pour into the cooled nut crust (it will fill the pan)
place filled pan on a baking sheet'
bake at 350 for 50-60 minutes
custard is done when center is set and slightly puffed
allow to cool before slicing
store any leftovers in the 'fridge
Spiced Whipped Cream
ingredients:
1/2 cup heavy or whipping cream
2 teaspoons 10X powdered sugar
1/4 teaspoon vanilla extract
1/8 teaspoon EACH ground cinnamon, nutmeg, allspice, ginger
directions:
in mixer bowl, at medium-high speed, beat cream 'til peaks start to form
add sugar and spices into a fine sieve or sifter and dust over whipped cream
start mixer up again, pour in extract
continue to whip just 'til stiff peaks form
(follow directions above if piping using decorative tip) otherwise, serve with Spiced Whipped Cream
 ♥   ♥   ♥   ♥   ♥
God loves you!  ♥  (Don't ever forget that!)
♥  coleen