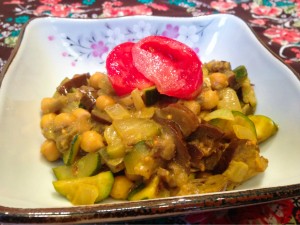 If you think about it, there is a lot of overlap between summer produce here in the United States, and what shows up on Indian food menus.  That's because what grows where it's hot there is also what grows in the summer here.  Lots of Indian dishes feature zucchini (also called courgettes), onions, eggplants, and tomatoes – all things coming into season now!  Why not try this Summer Vegetable Curry?
You really can't mess this up or go wrong.  Don't like garbanzo beans?  Use another bean, or switch them out for green peas or bite-sized green beans.  Like it spicy?  Add some chopped jalapeños or another chili of your choice.  Use whatever curry powder you have.  Out of coconut milk?  Use water or broth instead.  I didn't have any cilantro, or I would have chopped up a few tablespoons to stir in right before serving.  See?  There is no wrong way.
For a vegetarian meal, double the amount of beans and serve over basmati rice.  Paleo?  Skip the beans altogether and serve this curry as a side dish to your favorite protein.  Ready?  Let's go!
Summer Vegetable Curry
Ingredients:
1 large onion
2 tablespoons ghee, butter, or oil
1 tablespoon mustard seeds
1 tablespoon cumin seeds
1 tablespoon curry powder (or more, to taste)
1/2  can coconut milk
2 skinny eggplants
3 zucchinis
1 can garbanzo beans or 1 cup of rehydrated and cooked dried garbanzos
cilantro, raw tomato, and rice (optional)  for serving
Directions:
In a very large pot, heat the ghee or butter.  Chop the onion and add to the pot, along with the mustard and cumin seeds.  Fry on medium heat for about 5 minutes, until the onion becomes translucent.  Then add the curry powder and coconut milk and reduce heat.
Cut the eggplants and zucchinis into thin half-moons.  Add to the pot, stir to mix, and cover.  Cook over low heat for about 25 minutes until the vegetables are soft, stirring occasionally to ensure nothing sticks to the bottom of the pot.
Taste for seasoning – add salt or more curry powder if you like.  Stir in the garbanzos and heat through.
Serve with chopped tomato and minced cilantro.  Serve over rice if you like.
This is definitely one of those recipes that is even better the next day, and it's easy to reheat.  Have some for dinner tonight and save some for lunch tomorrow!
Explore, experiment, enjoy! — Dana
---
To view even more of Dana's unique recipes, you can visit her at Frugal Girlmet!