Last week at the grocery store, my older girl informed me that she had never had corn on the cob.  What kind of monster am I to deprive her of that experience? We bought corn and she liked it.  Then more corn came in my CSA box, and I was stumped: what else can I do with it? I like this recipe but I wanted to try something new. So I flipped open this old dear: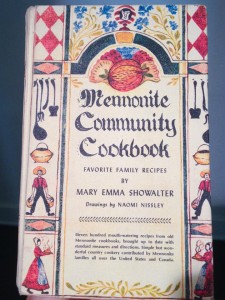 And I stumbled upon this recipe for corn fritters. Yum! But since I can't leave well enough alone, I added bacon and summer squash to mine. My new recipe: Bacon Corn Fritters!
These mix up quickly and fry quickly too. My girls ate these like pancakes with a little maple syrup. I ate mine with a dollop of plain yogurt (or you can use sour cream) and some shredded cheddar cheese. Fantastic! I bet these would be great with some cheese and lots of fresh sliced tomatoes. Sound interesting? Let's go!
Bacon Corn Fritters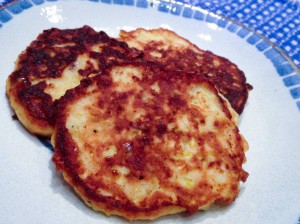 · 3-5 slices of bacon, diced
· 3 ears fresh corn
· 2 zucchini
· 2 eggs
· ¼ cup flour
· ½ teaspoon salt
· 1/8 teaspoon pepper
· 1 teaspoon baking powder
· 2 tablespoons plain yogurt (or use sour cream, or whole milk)
Directions:
1. In a large pan, fry the bacon. When crispy, remove to a paper towel-lined plate. Leave the bacon grease in the pan!
2. Using a box grater, grate the corn from the cob into a bowl. Grate the zucchini too.
3. Beat the eggs, and then add to the corn and zucchini. Stir in the flour, baking powder, salt, pepper, and yogurt.
4. Heat the pan again. Drop the corn batter by large spoonsful into the hot bacon fat. Flip and brown again.
Explore, experiment, enjoy! — Dana
---
To view even more of Dana's unique recipes, you can visit her at Frugal Girlmet!