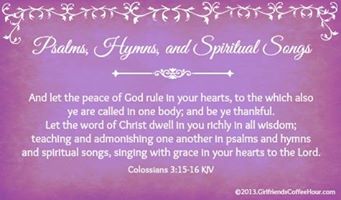 Be still, my soul; the Lord is on thy side;
Bear patiently the cross of grief or pain;
Leave to thy God to order and provide;
In every change He faithful will remain.
Be still, my soul; thy best, thy heavenly, Friend
Through thorny ways leads to a joyful end.
Be still, my soul; thy God doth undertake
To guide the future as He has the past.
Thy hope, thy confidence, let nothing shake;
All now mysterious shall be bright at last.
Be still, my soul; the waves and winds still know
His voice who ruled them while He dwelt below.
in You i rest
in You i found my hope
in You i trust You never let me go
i place my life within Your hands alone
be still my soul
Be still, my soul; the hour is hastening on
When we shall be forever with the Lord,
When disappointment, grief, and fear are gone,
Sorrow forgot, love's purest joys restored.
Be still, my soul; when change and tears are past,
All safe and blessed we shall meet at last.
Lyrics by Katharina von Schlegel, translated by Jane Borthwick
Set to the tune, Finlandia, by Jean Julius Sibelius
Additional Chorus by Kari Jobe & Jason Ingram
 *   ~   ♥   ~   ✞   ~  ♥   ~   * 
<sigh!>  How many times have I encouraged…commanded even…my own heart to simply 'be still.'  (Or perhaps more honestly: "BE STILL!!!!!")  How about you?  I know that some of you are going through difficult times. There is doubt and uncertainty in your hearts.  There is turmoil and strife in your homes.  There is worry and fear.  There is unrest in the politics of this world.  There are many, many unanswered questions.
Here are a few passages that I call to mind (and heart!) when the struggle to be still is most difficult.  They help me to renew my mind and come back into His Presence.
Come to Me, all who are weary and heavy-laden, and I will give you rest.
Take My yoke upon you and learn from Me, for I am gentle and humble in heart,
and you will find rest for your souls.
For My yoke is easy and My burden is light.
Matthew 11:28-30
Rest in God alone, my soul, for my hope comes from Him.
He alone is my Rock and my Salvation, my Stronghold; I will not be shaken.
My salvation and glory depend on God, my Strong Rock. My Refuge is in God.
Trust in Him at all times, you people; pour out your hearts before Him.
God is our Refuge. Selah
Psalms 62:5-8
You will guard him and keep him in perfect and constant peace whose mind is stayed on You,
because he commits himself to You, leans on You, and hopes confidently in You.
So trust in the Lord (commit yourself to Him, lean on Him, hope confidently in Him) forever;
for the Lord God is an everlasting Rock.
Isaiah 62:3 and 4
But I trust in You, Lord; I say, "You are my God."
The course of my life is in Your power;
deliver me from the power of my enemies
and from my persecutors.
Show Your favor to Your servant;
save me by Your faithful love.
Psalms 31:14-16
I love this old hymn! Both the lyrics as well as the tune always lead me into His Presence and acknowledging that He IS on my side…and He DOES guide the future and the past…and the hour is coming when we WILL be forever with Him!  Take these promises made to God's man, Jeremiah, and claim them as yours….
For I know the plans I have for you, declares the Lord,
plans for welfare and not for evil, to give you a future and a hope.
Then you will call upon Me and come and pray to Me, and I will hear you.
You will seek Me and find Me, when you seek Me with all your heart.
I will be found by you, declares the Lord….
Jeremiah 29:11-14
Sing along with me, friends!  Let us choose to be still before our God recognizing all that He has promised to do when we are in humble submission and in quiet rest at His throne.
in You i rest




in You i found my hope




in You i trust, You never let me go




i place my life within Your hands alone




be still my soul