What do you call the meal you eat in the evening…supper or dinner? Just curious! So it appears that this has turned into a mini-series…these last few recipes have focused on lighter meals that are easier to prepare and don't heat up the kitchen.  Perfect for summer suppers!  (See, that's what I call the evening meal.)
During these warmer months, I prefer to keep a tub of greens all prepared in the refrigerator to make it quicker to pull together one of these supper salads two or three times each week. Fortunately, Robert really enjoys salad for supper, too! And, like most men, he is very appreciative of something hearty either in or served along with the salad.  Oh, and bread too…really enjoys his bread!  So there is no excuse, as far as I can see, not to have the fixin's for salad ready to go what with all the luscious produce available at the grocery store AND local farmer's markets. This week, one meal we had was topped with grilled chicken breast…yum! This fits well into our healthy but oh-so-yummy POV! Low in fat, high in protein!
I have a tip that you might find helpful: when I purchase chicken breast, I repackage them into meal-size portions to store in the freezer. And, most times, before freezing it, I pound or flatten them so that they are similarly thick throughout the whole piece. I find this makes them cook more evenly when used whole; and also are easier to dice or slice when you need to cut them up. Here's a tutorial you might check out...has some great ideas!
I would LOVE to hear of your favorite salad combinations!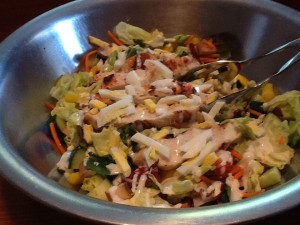 Grilled
Chicken
Supper
Salad
ingredients:
—  chicken breast
—  2-3 tablespoons favorite marinade or salad dressing
greens:  choose your favorite combo of lettuces with a mixture of textures (bibb, butter, romaine, spring mix, radicchio, arugula, cabbage, spinach, kale, etc.
other veggies cut into bite-size bits:  carrots, tomatoes, cukes, celery, onions, sweet peppers, zucchini, mushrooms, etc.
additional add-ins:  olives, avocado, hard-boiled egg, artichokes, nuts, fruit (fresh or dried), fresh herbs
—  salad dressing
—  sea salt and freshly ground pepper
directions:
thaw chicken, if necessary.  pour marinade into bag or container along with the chicken and allow to rest for 30 minutes or so
grill chicken 'til thoroughly cooked through (temperature of 160 degrees); set aside to rest 'til balance of meal is prepared
add 2-3 generous handfuls (per serving) of the lettuces to a big serving bowl
throw in the veggies of your choice and toss together
top with any other add-ins you choose
serve with dressing on the side and s&p for seasoning
♥   ♥   ♥   ♥   ♥
God loves you!  ♥  (Please don't ever forget that!)
♥  coleen