Y'know when a friend is on vacation and they post gorgeous photos of beautiful scenery, fun-in-the-sun…and yummy food?!! (Well maybe just a pic or two of yummy food!)  My friend, Cynda, and her family recently vacationed at the beach in Mexico. She included amongst all of the gorgeous sunrise scenes, and shots of her grandson being adorable, a pic of a delightful chicken salad that she enjoyed for lunch one day. It looked SO good that I was prompted me to make it for supper! This recipe fits the bill for our 'healthy but oh-so-yummy' POV since it is loaded with veggies, the fruit of an entire pineapple, and lowfat chicken breast. I also used equal portions of mayonnaise and Greek yogurt to lessen the fat grams/calories of the dressing. Perhaps this isn't exactly the same recipe as the chef who prepared it for Cynda but we enjoyed it very much…hope you and your family do, too!
NOTE:  This salad should be put together IMMEDIATELY before serving!  Trust me.  I learned this lesson the hard way—I had to prepare this meal TWICE.  While a delightful combo when eaten fresh, pineapple and chicken do NOT marry well to sit around together!
Early one afternoon, I put this salad together and tucked it away in the refrigerator awaiting suppertime. Pulled it out, layered the pineapple shells with Boston lettuce leaves, piled in the salad, scattered the nuts atop, and proudly carried those plates to the table. We sat down, thanked our gracious God for His provision of food and His blessings, scooped up that first bite, popped it into our mouths…and then right back out. Ummm, yeah. YUCK!  Robert immediately blamed the chicken for being bad (but I knew it was just fine).
I did a little sleuthing around the internet and found out that the enzymes in the pineapple had 'cooked' the <already cooked> chicken and changed the texture and taste. (I can attest to that!)  EPIC failure!  But I remade the recipe…and this time added the pineapple (as the recipe NOW reads) just prior to serving.  Problem solved…it was delicious!  So, eat it all up…go ahead, I am giving you permission.  This will not be good if you save leftovers for tomorrow's lunch.
Pineapple – Chicken Salad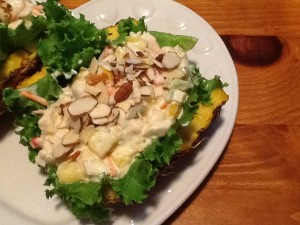 (makes 2 generous portions)
ingredients:
2 cups cooked chicken*, chopped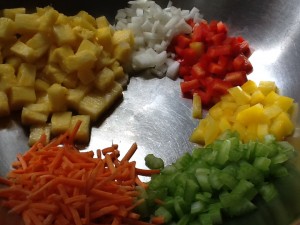 1/3 cup shredded carrots
1/3 cup finely sliced sweet onion
1/3 cup finely chopped celery
1/3 cup EACH diced red and yellow pepper
fruit of 1 fresh pineapple (here is a great tutorial on how to cut  a pineapple)
1/3 cup mayonnaise
1/3 cup plain Greek yogurt
1/2 teaspoon garlic powder
1 teaspoon lemon-pepper seasoning, freshly ground
pineapple boats
lettuce leaves
pitas, or flour tortillas (optional)
slivered almonds (or chopped nuts of your choosing)
*I poached 1# of chicken breast but you could use leftover cooked chicken or rotisserie chicken
directions:
whisk together the mayo, yogurt and seasonings; set aside
in a large mixing bowl, combine chicken, and all the veggies
pour the dressing over the chicken and veggies; combine well
refrigerate 'til ready to serve
when ready to serve, add pineapple chunks to the dressed chicken salad
scatter nuts across the top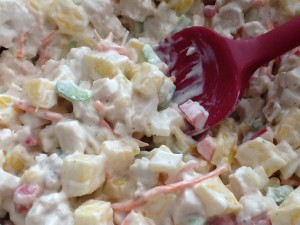 serving suggestions:  this can be served right in the pineapple 'shells" (boats), or you can line the pineapple with lettuce leaves, or serve the chicken salad wrapped up in a lettuce leaf, or stuffed into a pita (or folded tortilla wrap). You choose!!!  Enjoy!
♥   ♥   ♥   ♥   ♥
God loves you!  ♥  (Please don't ever forget that!)
♥  coleen