Who loves Tex-Mex food?  Raise your hand!  Me, too!  And the crazy thing—my husband, Robert, has said for years now, 'Um, no thanks!'  Somehow he got it in his head that all Mexican, Tex-Mex, Cal-Mex food had to be spicy.  (And Robert does not enjoy SPICY!)  So, recently I have been preparing an occasional dish to try and introduce him to one of my most favorite cuisines…successfully, I might add!  Olé!
Recently, Aldi (Do you shop there?  You should!)  introduced a new line of gluten-free products…really quite good, very good quality!  One of the items is a 'flour' tortilla.  They are amazing…just like a really good wheat flour tortilla that I remember (soft, pliable, thin) from before we went gluten free.  So I went back and bought not one, not two, but three packages…oh the options!  These Chicken Enchiladas were my first choice!  I prepared them with a tomatillo salsa (oh, yum!) but certainly they can be made with traditional salsa equally well.   (And, please, make this recipe using traditional ingredients (NOT gluten-free) as well!  Enjoy!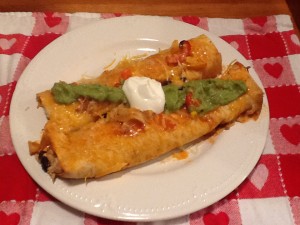 Chicken Enchiladas
ingredients:
1/2 red pepper, sliced thin
1/2 red pepper, sliced thin
1 medium sweet onion, sliced into halfmoons
2 tablespoons olive oil
sea salt, freshly ground pepper
2 tablespoons (divided) chipotle chili powder
3 cups cooked chicken, shredded
2+ cups enchilada sauce  **gf recipe below
1 cup frozen corn (defrosted)
1 cup tomatillo salsa (or traditional salsa)
1 can (15 ounces) black beans, rinsed and drained
1 cup sour cream
1 cup shredded Mexican-blend cheese
directions:
preheat oven to 350
lightly oil the bottom of a large (9 x 13) baking pan, and pour in ½ cup of the enchilada sauce
saute the veggies with the olive oil for 7 or 8 minutes 'til softened.  season with salt, pepper, and 1 tablespoon of the chipotle chili powder.  set aside
in a large mixing bowl, combine the shredded chicken, corn, black beans, sour cream, 1 tablespoon chili powder, ½ cup of the enchilada sauce, ½ cup of the salsa, ½ cup of the shredded cheese; mix well
pour 1 cup of the enchilada sauce into a shallow saute pan (or a bowl)
now, set up a little production line with the baking pan, the chicken mixture, the pan with enchilada sauce, and an empty plate…this gets messy; you'll thank me for it!  😉
take 1 tortilla, run it through the enchilada sauce to coat; place it on the plate.  take 1 good handful (1/3-1/2 cup) of the chicken mixture and spread it down the center of the tortilla; roll the tortilla up; place in baking pan with seam-side down.  repeat 'til all tortillas are filled. (*tip: you might want to trim the edges of the filled tortillas to fit nicely into the baking pan)
pour the sauteed veggies across the top of the filled tortillas
(if there is any enchilada sauce left, pour that over the top…don't want to waste that!)
sprinkle the remaining shredded cheese over the top, too
bake for 15-20 minutes 'til bubbly and cheese is melted
serve with sour cream, salsa, and guacamole
** here are two really good, homemade, gluten-free, chemical and additive-free recipes for enchilada sauce.  also, Nicole from GFOAS has a nice recipe for homemade 'flour' tortillas!
http://glutenfreeonashoestring.com/enchiladas-saucy-smokin/
http://glutenfreehomemaker.com/enchilada-sauce/

♥  ♥  ♥  ♥  ♥
God loves you!  ♥  (Don't ever forget that!)
♥  coleen