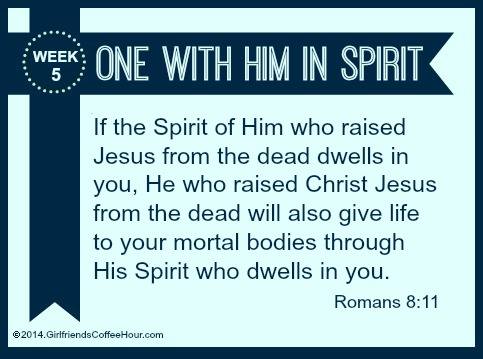 These are big, huge, incredible, awesome TRUE statements Mrs. Myers makes as we read through Chapter 24!  And as incredible as they are, we (you and me!) must hold them in our minds, remembering they are Jesus' words.  And ask for help in believing them.
I was so encouraged and built up by the Truth regarding God living in me, the Holy Spirit living in me, and, Christ living in me!  Of course, this is not a revelation to me but somehow, someway (hmmm, perhaps the Holy Spirit working as my Helper?) today, these truths came alive for me.  Has that ever happened to you?
Listen to this:
If anyone acknowledges that Jesus is the Son of God,
God lives in them and they in God.
And so we know and rely on the love God has for us.
God is love. Whoever lives in love lives in God, and God in them.
1 John 4:15 and 16
And this:
And because you [really] are [His] sons, God has sent the [Holy] Spirit of His Son into our hearts, crying, Abba! Father!
Galatians 4:6 AMP
And listen to Paul's joy as he wrote that he was to
…make God's message fully known—the mystery hidden for ages and generations but now revealed to His saints. God wanted to make known among the Gentiles the glorious wealth of this mystery, which is Christ in you, the hope of glory.
Colossians 1:26 and 27
Looking at just these 3 passages, our hearts can be built up in the Truth knowing that God lives in you (me, too!) because you choose to live in love, and that your Father—Abba!—has sent the Holy Spirt to live in your heart, and that the mystery hidden throughout the ages is now made known—it is Christ living in y.o.u., the hope of glory!
In a side note on page 101, Mrs. Myers writes,
"Take God at His word.  Accept it as true that you are indwelt with the fullness of God Himself, that His Spirit has His home within you and you belong to Him…."
I am setting my mind to do this, friends.  And I don't want to just assent to it…I want to believe it with all of my heart!  Seeking God's grace and blessing, and the help of the Comforter!  How about you? <3
 * ~ * ~ * ~ * ~ *
And here are Kim's thoughts and her beautiful inner identity album page for this week; she writes:
"To be filled with the Holy Spirit is to be filled with Christ. The Holy Spirit came to glorify Christ. Therefore, if I am filled with the Spirit, I am abiding in Christ. I am walking in the light as He is the light, and the blood of Jesus Christ will cleanse and keep on cleansing me from all unrighteousness. I am so thankful for the Holy Spirit to guide me on my path in Wisdom's way."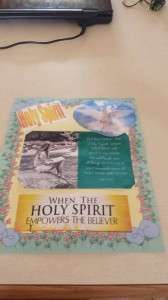 And I will ask the Father, and He will give you another Helper, to be with you forever,
even the Spirit of Truth, whom the world cannot receive,
because it neither sees Him nor knows Him.
You know Him, for He dwells with you and will be in you.
John 14:16-17 ESV