Final Week of SoupPalooza 2014!  Here on the Monday edition of the At Home w/ GCH blog, we have celebrated with four different soup recipes: Mushroom Soup with Wild Rice, Baked Potato Soup, Turkey Veggie Soup, and today's recipe, a Chili w/ Veggies.  Each recipe a completely different 'style' soup than the next!  From Mr. Hayden and I, we hope you have enjoyed the variety…He certainly has!
This week's recipe was inspired by a suggestion from our Dana Kim in her recent post ing of a Cabbage and Pineapple Slaw recipe.  (Boy, was that good!)  She hinted at a recipe for a spicy soup or chili.  So, I prepared BOTH her recipe along with mine…here y'go!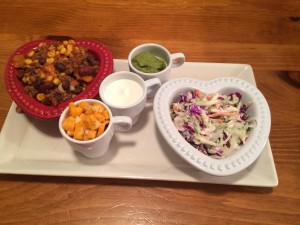 Ingredients
2# ground beef (or turkey)
2-3 tablespoons olive oil
1 medium-sized sweet onion, chopped
1 large red bell pepper, chopped
4-5 ounces Baby Bella mushrooms, chopped1 medium-sized sweet onion, chopped
3 tablespoons chopped garlic (I use jarred)
1-28ounce can crushed tomatoes
1-15 ounce can dark red kidney beans, rinsed
1-15 ounce can black beans, rinsed
1 package taco seasoning (* see below for 'homemade' seasoning recipe)
1-2 cups frozen corn, defrosted
Optional toppings: sour cream, shredded cheese, chopped avocado, salsa
Directions
Saute the ground meat 'til all the pink is cooked out.  Drain away the excess liquid and set the cooked meat aside.
In the same pan, add 2 tablespoons olive oil to heat over medium heat; add the chopped onion and mushrooms.  Saute for 5-6 minutes.
Add in the chopped bell pepper; stir well.  Saute the veggies for approximately 6-7 minutes 'til just beginning to get slightly brown.
Lower heat and add chopped garlic.  Stir constantly for 1 additional minute.
Increase heat to medium-high, pour in the chopped tomatoes and the taco seasoning mix.  Stir.
Finally add back the cooked meat as well as the beans; stir well 'til all is combined.
Bring just to a boil; and lower heat so the mixture is gently simmering.
Homemade Taco Seasoning Mix
1/4 cup chili powder
3 tablespoons dried minced onion
1 tablespoon garlic powder
1+1/2 teaspoons salt (optional, I do not include it)
2 teaspoons dried oregano
2 teaspoons ground cumin
1 teaspoon ground chipotle pepper
2 teaspoons paprika
1 teaspoon black pepper
½ teaspoon cayenne pepper
1/3 cup cornstarch
Place all ingredients in a small glass jar; shake really well 'til all ingredients appear to be evenly distributed.  (To substitute for the mix that comes in a yellow package: use 3 tablespoons of mix and 1/3 cup water for each pound of meat.)
♥  ♥  ♥  ♥  ♥
God loves you!  ♥  (Don't ever forget that!)
♥  coleen