SoupPalooza time again! January is National Soup Month, and for my hubby, Robert, we have entered his 'happy zone!'  The man will eat soup every single day! So, just like January 2013, I am indulging him and have committed to serving soup at one meal per day for the entire month.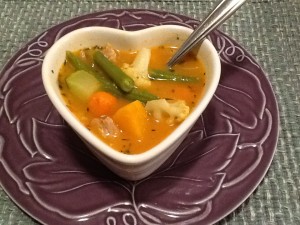 Here on our healthy but oh-so-yummy! Monday's on the At Home w/ GCH blog, we will be promoting soup, soup, and soup for the next four weeks. Each week will focus on a different type of soup, i.e., veggie-based, creamy, chunky, meaty, etc. And don't forget to utilize the search button on our website to check out soups from SoupPalooza 2013 along with soups that our Dana has shared with us, too!  With all of the ch-ch-chilly temperatures around the country recently, perhaps soup will feature more in your menu planning, too!
Turkey Veggie Soup
Ingredients
4 quarts homemade turkey stock (or your choice of boxed broth)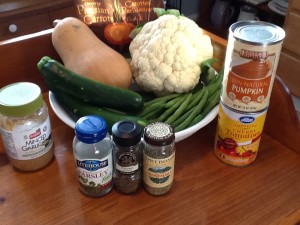 3-4 cups of cooked turkey meat, shredded
1 small sweet onion, finely diced
1 stalk celery, thinly sliced
2 tablespoons chopped garlic in oil (jarred)
2 tablespoon olive oil
1/2 medium-large butternut squash, peeled and cubed
1 can (15 oz) stewed or crushed tomatoes
1/2 can (15 oz) pumpkin puree (NOT seasoned!)
3 tablespoons chopped parsley
1 tablespoon chopped thyme
1 tablespoon chopped rosemary
2 garlic cloves (crushed)
salt and pepper to taste
6-8 ounces green beans (if using frozen, defrost)
2 cups cauliflower florets (ditto)
1 cup cubed zucchini
8 ounces carrots (I used frozen)
optional: cooked rice, quinoa, or tiny pasta
Directions
In a large soup (or stock) pot, heat olive oil over medium-high heat, and then add onion and celery. Saute for 5 minutes.
Add cubed butternut squash and saute for an additional 10 minutes, stirring only once or twice, 'til just beginning to brown.
Add chopped garlic and saute for 1 minute, stirring constantly.
Stir in stock, tomatoes, and pumpkin puree, mixing thoroughly.
Add vegetables (zucchini, cauliflower, carrots, and green beans) and seasonings. Bring to a boil.
Reduce heat, cover, and simmer for 15 or so minutes 'til veggies are getting tender.
Using a slotted spoon, remove about half of the veggies to a bowl and set aside.
Turn heat very low, and puree the broth and remaining veggies 'til smooth using an immersion stick blender (or

very 

carefully! puree in a blender container).
Add back in the reserved veggies along with the cooked meat. Heat 'til nice and hot.  Enjoy!
   ♥      ♥      ♥      ♥      ♥ 
God loves you!   ♥  (Don't ever forget that!)
♥  coleen
*   *   *   *   *   *   *   *   *   *   
Interested in joining us for our next Online Bible Study that starts on January 13, 2014?   Click HERE for more details!